We interviewed Luca Vince Caltabiano, author of CarmaRace..
1) What lead you to creating game based on one of the most controversional PC games ever?
It is not based on Carmageddon at all lol
2) What did you borrow from the PC game and what will be totally different?
Well, my game has cars and old ladies. But other than that, the game is totally different
3) For all those, who are too lazy to read the rules, let's sum it up. What is CarmaRace about in the first place? Is it a racing game?
Players play as hitchhikers try to race to the convention hall across the continent.
They will use planes, trains, and automobiles. If people are lazy, we have a video up on the kickstarter.
I think the video will be better then reading,
4) How is it – creating board game instead of criticising one? Are you prepared to take hits from other reviewers?
Well, it's very different and I have a new found respect for game designers out there. I think that designing this game turned me into a
much better reviewer and I learned a lot from the experience. I will send out my game to all the reviewers I know, and will get ready for the hard hits some of them will dish. I am ready for them because I know there will be few negative comments. I made sure to make something that my reviewers and I enjoyed playing would give a high mark.
5) Why did you actually change seats from critic to creator?
I did not change seats… I see this as adding an armrest to my current seat 🙂
It great experience and I don't see myself stopping anytime soon. I am working on the expansions all ready.
5) The huge map seems amazing, is it only fantasy or what it inspired by some real place?
It fantasy, we wanted to make the players feel like they were really taking an adventure.
This game does not focus on the destination, but more on the adventure taken to get there.
6) Dark humour is great in board games. What is your favourite game, when it comes to this?
Well, first think comes to mind is Cards Against Humanity and Kittens in a Blender.
But with CAH, they kinda let me down when they have very little support or distributors for retailers.
7) This is gonna be no family game, right?
Well it can be if you remove 1 or 2 cards. It's VERY customizable and anyone can play.
I played it with my little cousins, who are girls, and they had a blast. I then played it with them and their parents, who never play games, and they had a blast. I just know that it's a game that everyone will enjoy and will expand and customize to their need.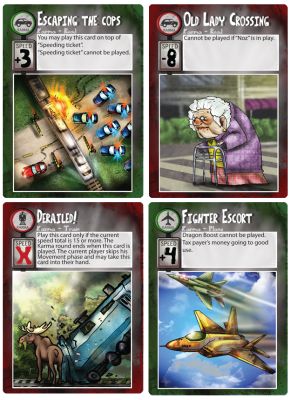 8) Many board game reviewers have some ideas in their locker. Would you suggest to take them out and publish them? Is all the hard work worth it?
Well I can tell you it's A LOT of work.. I am lucky enough to have luxury of free time and lots of support.
Is it worth it? I don't know yet… you'll have to ask that question to my artist (Julie from Squish Image), who put her blood and sweat into this game, for free, because she believes in it.
Thank you for your answers, Luca!
Dusan was the guy, who asked questions for DeskoveHry.com..
Vaše reakce na článek / Your reaction
Mohlo by vás zajímat / Interesting
Jeník, David a Petr se společně sešli, aby dali dohromady seznam her, které považují za [...]
Možná byste podle názvu čekali nějaké dobrodružství Doctora Who ze zoologické zahrady. Ale cestování v čase nás tentokrát nečeká, protože hra vypráví o [...]
Firma HASBRO a její Monopoly slaví osmdesát let. Při té příležitosti vyzývá vydavatel fanoušky k podpoře města z jejich země. Pouze ta nejúspěšnější [...]
Čínské koláčky štěstí nejsou jediné. I na britských sušenkách najdete texty. Nejedná se o moudra ani předpověď budoucnosti. Jejich smysl je mnohem [...]
V lednu k nám dorazí díky Rexhrám další hra v češtině - Dice town. Máte radí divoký západ? V salonu se už chřestí kostkami. Čtěte dále.
Tam na severu jsou lidé chladní. Když se rozhodnou, že půjdou do války, nic jim nezabrání. Ani myšlenka na smrt, která je pro mnohé vlastně vykoupením. Kdo [...]