The history of our planet is rich and full of dramatic moments. Today we will focus on the period, when almost all life on surface disappeared after an enormous disaster. Many years later, two races went on the fight for domination of Earth – dinosaurs and mammals. Battles for survival are usually determined by many small things, such as environment, circumstance, or coincidence. After all, we know it from the present time, such as welds carried out and are not always completely kosher.
Rocket engineer (!) and board games author, Phil Eklund (Sierra Madre Games), has set for himself a clear mission: to map the whole development of our home planet. Originally this series was not united and there were separate games Origins: How We Became Human and American Megafauna. But now finally the time is ripe for a BIOS series . And the first part of it (not by time, but by publishing sequence) is a re-issue of the American Megafauna game (original edition from 1997) under a new name BIOS: Megafauna. Renaming is not the only thing that has changed. Author tried to accelerate the game, so it could be approached also by common audience. Original American Megafauna match can sometimes last as long as ten hours. Many elements of the original game disappeared, others were modified.
Well in the end, this new revised version found its way across the mysterious roads to our small editorial desk. The actual box is defined not by its size, which is rather small. But the more full the box is. Part of area is taken by folding game board, but this time it is not so extremely large, as we are used to. On its surface, you will find a portrait of the world, surrounded by lots of text and scales to help monitor the development of the match. We will learn their importance later in the text, now we only note, that there are six lines of defense genes (roadrunner DNA), monitor of planet environment and last but not least, the scale of six different sizes of species.
In addition to the large board, there is also a bunch of square tokens waiting to be liberated from their captivity in sheets. These tokens are wearing numbers – in this case, these are the planet's environment called biomes, or there may be images of enemy monsters, that may immigrate to your doorsteps and trouble your life with their presence. In a little plastic bag, you will find some round plastic tokens, that serve as indicators (red) and especially as money – genes.
The entire package must not be missing quite a fair pile of cards. You take out the players' individual sorters in four colors. All the other cards are more or less the same, and bring events, DNA letters and possible opponents into play the event. Some are simply in height and event is located at the bottom, others are double-sided – one part for mammals and the other for dinosaurs. The game itself is divided into a battle of two sides – up to two players can assume the role of each species. At the top of the card are conditions for playing them – size of the creature that can benefit from it and DNA letters, which add to your helix.
But we still have not heard a word about component, that transfer BIOS Megafauna from an ordinary gaming to an experience – miniatures. There is an incredible 128 of them in the game, 32 for each color. Together they form a very pleasing pile. The actual miniatures are very light, yet they are really made of wood. We did not try to burn them or anything.
Before we get into the game itself, we will tell you a little more generally, what the game actually is about. Description of the rules would probably not be appropriate next step for this article. BIOS Megafauna is a game, that is anything but traditional. Yes, it is an euro game, but just in its roots. Some playing things were sacrificed in favor of simulation, but the more fascinating experience it ultimately provides.
So we know already, that players compete on a game board for survival of their species. Each of the little boxes (locations) on the map has three sublocations and at the beginning of the game. Many of them receive a random biome determining, which creatures can live there. In addition, the top of the token establishes requirements that must be met for a creature to survive there – there requirements are written in form of letters, which must match DNA of its residents.
On the piece itself only a herbivorous creatures will survive. Carnivores needs just these herbivores to feed on, they are higher in a food chain, so their figures go to the top of the box – in the upper triangle. These two creatures live in symbiosis in nature – herbivores multiply and provide food for carnivores, neither one of them is in risk of extinction. The problem occurs, when some other species enter this environment and disrupt the balance. At that moment, it is clear that some of them would have to die of starvation or adapt. Battles take place in the game environment, as appropriate via the properties of the DNA helix or the number of types of teeth in their oral cavity.
In order to survive, the player can gradually develop and improve his creatures. Each move, he can manipulate their size, which also reflects the suitability of some characteristics, that can be used – such as feathers, the ability to survive in water or a beak. Players buy cards every turn and with those they adapt their species, migrate or even reproduce.
Now we know the basic idea, around which Megafauna BIOS revolves, so now we will take a short look how the game is actually played. Due to its breadth and number of ideas, that are completely connected in one unit, we will mention only true foundations, so you get an idea of how this game works.
Players start the game by choosing a species. They take all 32 pieces of this color in four different shapes (8 of each). They may thus have a total of four gene pool on a map at the moment and four creatures fighting for survival on the planet. You will get for starters a few tokens of the game currency – the plastic wheels genes.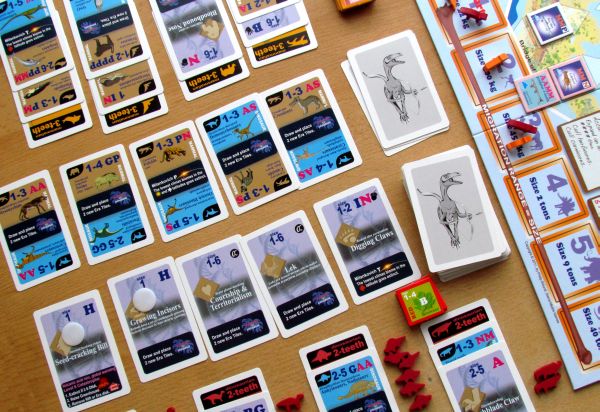 Now you need to prepare a game board and card offer. Cards are distributed according to rules in several small packages (eras), from which will be drawn bid for each round. This means that now you draw five cards out of the first pile and lay them on the table. They are your initial possibilities for evolution, with which you wil have to begin. All remaining cards will create a second pile and from it, there appears second line of five cards on the table. Also these are available for purchase.
On the map of the world, you must also draw 22 biomes and deploy them to according climatic zones into which the world is divided. Each of the biomes has in the lower left corner icon, that indicates in which zone it belongs. The number on that icon determines the likelihood, that this piece will survive climate changes on the map – the higher the number the better.
Just before a start, each player places one starting biome tile, where his species will have a slight advantage in duels with aliens. This is also the place, where he puts his first and only starting piece (creature). The second miniature of the same shape (since each species has only eight figures) is placed on the size track to size one – number that represents the weight about 22 pounds.
And now that we have everything prepared, we proceed to the game itself. We should emphasize at the start, that players in BIOS have no cards in hand, and if they purchase one, they have to play it immediately. You will not find any secret information in this game and all players have same chances throughout the game. At least in their options for play.
Each opponent has a choice of four basic actions, that can be done – purchase cards, resize a species, acculturate or extend its type to another area on the board according to its migration range. The basic and very important is the purchase of cards, that can be made from both five card lines. Free is always only first card from the left, all other costs a gene – always one more as you progress to the right. If you decide to buy some of these cards, then you must pay this many gene tokens and place one on each card, which was overtaken by your decision.
Then you draw the card supply back to five. When taking cards from the top of the two lines (the one supplied from a large pile), nothing happens. But when you claim from the bottom offer, the newly revealed card causes an event, that is written in the black box. And because each move of the game is one million years of real time (!), there are no small events, but you may encounter the earth's axis rotation or greenhouse level rise.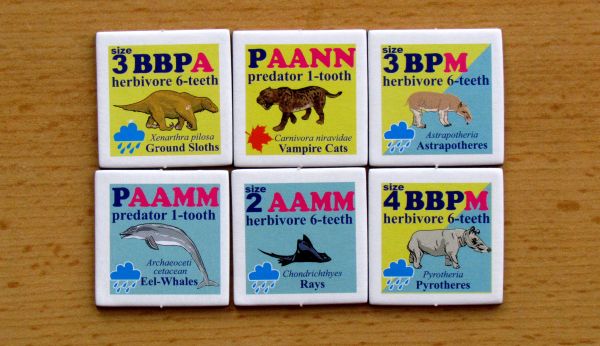 Players can take this bought card for themselves or throw away quietly without effect (we are not talking about the card with event!), because he took it only due to genes, which lay on the card. Genes are a limited source depending on how many players participate in games and have to be used wisely, because they are constantly redistributed to your opponents and back via card buys. But if you keep the card, it is usually included in the DNA of one of your species, and thus completely changes the situation on the plan. There are many letters of DNA, with which you may encounter in the game, and describe the benefits of creation, since it may use – for example, water, armor,speed or husker. Then the species may seize to be suitable prey for predator and that creature gets hungry and seizes to exist.
During development, the player's species can grow and shrink as needed (but only by one each turn) to adapt to environment or may need to shrink for example to grow feathers. All these properties have their own advantages, but with increasing specialization and letters in the DNA code, you get more and more exposed to danger of being too perfect. Then it might just happen, that your creature is wiped out by over some unfortunate event.
It often happens, that the conditions on earth change and new placed biome tiles overlap existing ones. Therefore, it is important to follow the map and keep your species in stable places, far from the tropics and arctic wastes and on biome with the highest number of stability (the pieces with the lowest number in the area are replaced).
Very important for the whole game is also expansion of species – you can either extend the same kind, or you can create new and use an unused shape of wooden pieces for its creation.
During their turns players are trying to ensure the survival of their species by choosing specialization and DNA. Keep in mind, that the carnivore can adapt and become herbivores, but their DNA letters must comply with biome requirements.
When climate changes (resulting in movement of biomes and discarding some of them) or you replace some biomes, the discarded pieces go to tarpit, where they are stored until the next scoring. In such moment, you count the number of miniatures on the map and the one with the highest number takes half of tarpit pieces. The second player takes half of a half and so on, until all the pieces are distributed. These pieces have a victory point value at the end of the game.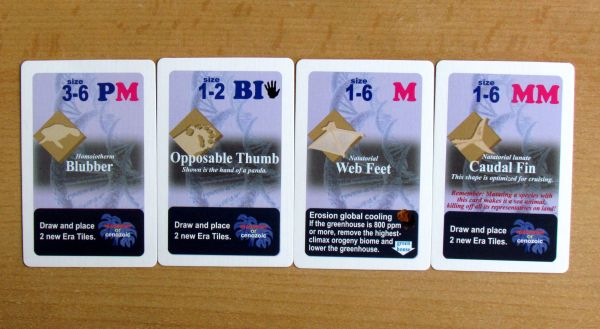 Ultimately, we see that it is a dominance of species on the planet, which decides. It is important to live in symbiosis with the other – it is quite normal, that a players carnivore feeds on herbivores of second player and they are both completely satisfied. In this way, the game is a mix of cooperation and competition, as life itself.
Evolution is not an easy thing. All creatures must constantly adapt to new conditions, and each day is just another episode in an attempt for survival. BIOS: Megafauna does not offer only game, it offers absolute enjoyment. During the game, you will experience evolution in its true sense, you will face real problems, that real animals once had to deal with. And still you're trying to keep the bigger picture, to defeat all your rivals and become the ultimate species.
Playing Megafauna has a pile of layers, which you gradually peel off, like with onions. And just like this popular vegetable, also Megafauna has sharp, burny and pungent top layer. There are rules, that seems hostile and bite you each time, you face them. We do not say, that the booklet is poorly written, quite the contrary. Just that those eighteen pages are crowded with informations and somehow you can not see the bigger picture. Once all the wheels fit into place all, it makes perfect sense – Megafauna is in essence quite simple game! Just packed into a really pungent coat.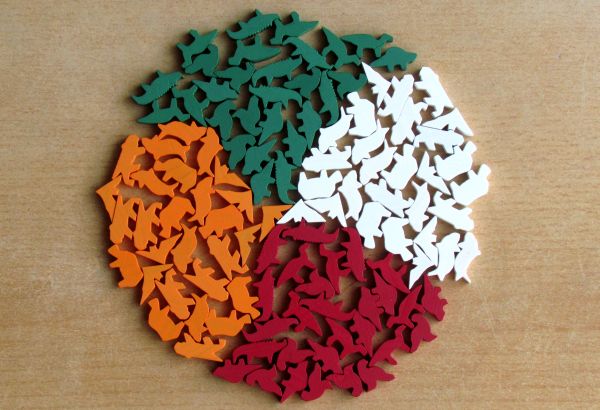 But now to those other layers. With the description of the rules, we have just outlined some basic gaming principles, around which everything revolves. Players really have a choice of only four basic actions, which are the only way, to prepare their creatures and protect them against unexpected events. And it is really enough and it works great, especially because none of the other competitors do not have to wait for his turn. It's simple: take a card from the menu, play it, uncover the event (which applies to all) and evaluate it.
It's amazing how complex the game is and still everything fits together perfectly. Even the smallest details have fundamental sense here. For example herbivores may defend themselves from predators using the roadrunner DNA (yes, according to that Disney character) – they may be faster, more armored or become nocturnal.
Very important for the whole are also invasions of creatures, which comes like a new biome card drawn from supply. They are targeted for some piece and will be there waiting for someone brave. But after all, they can be a pretty good loot to feed your predator on them.
The whole game gives you a really great experience. How your species change and adapt, your imagination will run at full speed, when you try to picture their appearance. There is constantly something going on, and players must contend again and again with new lures.
Also the way, how the game addresses early retirement of players fro the game is worth mentioning. If all his species die and he has therefore no opportunity for further development, he becomes a "Lazarus player". He can revive one of his species. Even this, as well as other terms in the game, has a real basis in scientific terms.
You propably got scared about the length of play from our description. But do not worry, BIOS: Megafauna, compared to its predecessor, plays smoothly and rather quickly. Two players are able to finish a session in about hour and half, three often come to time of two hours. For the experience that the game provides, it is no staggering number, that should discourage you from playing.
We have already talked about the rules, but we will return to them once more. In addition to basic brochure, there are living rules available on the Internet. These are optimized for a better understanding. In addition, they contain additional rules to improve the game.
The game has a great portion of chance. One event is able to easily clear the map of the entire species. Yes, it can upset players and they may feel, they did not deserve it, but it is basically a reality. You might get upset, but such is nature. In addition, Phil Eklund constantly enriches his Living Rules with new options to remove the randomness of the game.
There is so much to talk about (fight, solo play, events), but we have reached the conclusion. BIOS: Megafauna is an absolute revelation for us and a game, that took us by suprise. While remaining a very limited selection of options, it offers an incredible width of possibilities for players. Moreover, it is absolutely faithful simulation of evolution and provides an incredible experience for anyone, who plays it. If you feel at least in part as an advanced player, who has played some of those board games, then you must try it. Prepare for heavy combat with the rules at first, but you will be rewarded at the end. BIOS: Megafauna is simply game with capital G.
Více o hře
.
Plusy | Pros
+ hard to forget experience
+ incredible depth
+ science everywhere you look
+ thought-out principles
+ few options, a lot of control
+ DNA simulation
+ need for long-term planning
+ victory point system
+ eventually simple game
+ miniatures
Mínusy | Cons
- complex and dense rules
- downloading Living Rules is more or less obligatory
Vaše reakce na článek / Your reaction
Mohlo by vás zajímat / Interesting