A week ago, there was a bare meadow here. Daisies blossomed here, butterflies flittered around and everything was oversawed by a nearby spruce. But then came the noise of the apocalypse and human inventions appeared on the driveway. Machine stole the meadow's fragrant surface, revealing a brown sticky clay hidden beneath. Animals had to retreat before technology to safety. The people said, that they came here to grow new human city, full of noise, people and danger for such fragile creatures. So they moved over the hill instead, where they will be better. They watched from the distance, as their former home changes into growing concrete structures. The greedy fingers of the city have reached even here.
Construction is a favorite topic of computer games. In early days, the only representative was Sim City, but today you can find a lot of different tycoons. And it is this word – tycoib – that is now shared between computer games and a board game from Rebel.PL, called City Tycoon. Its authors are Hubert Bartos and Lukasz P. Kowal, who used help of James Babczynski for illustrations.
Tycoon City is located in square box of humble dimensions, so it is not extra large – just enough to fit everything in. And it is indeed a lot to fit there. At the beginning, you will be overwhelmed by piles of sheets, from which you will buildings for the city, but also a lot of money and round tokens with player symbols.
Actually it is a bit paradoxical, that in addition to all these cardboard part, you need only two more parts to play the game. One of them is a small scoring board, where you and your opponents will score the vicotry points and turn order of players. Second, there are wooden cubes of three colors, representing the three sources in the game – red as electricity, water tank is blue and yellow represents general merchandise.
You will also find several booklets withrules in various languages inside – of course Polish, German and English. But the game itself requires no language skills, because all situations are clear and can be found only on tokens with arranged icons.
Preparation of the game is quite simple. The three colors create a pile of wooden blocks, as well as square building tokens separated according to their back – they have four stages marked by Roman numerals from I to IV and match playing rounds. Besides them, you will nedd further four piles – red with electric plants, blue with water tanks, and then another two with lake and the grass. The latter two will help you maintain urban landscape and magnify it a little.
Individual players will get, except for initial funding, twenty five tiny wheels, which are used to designate their land in the city. But there are none yet. Only four of the main city are located at the beginning in the centre, they represent a starting cards (easily distinguishable from the letter S on the back). You will find a single electric plant and water plant there. Each of these two pieces will get as many matching colored blocks (red and blue), how many players participate in the match.
Rivals place one of their little circle tokens on zero on points counter and the other to denote the order of players, which is determined randomly for the first round. And now finally, we can proceed with building the city itself, which consists of four years, four rounds, during which will appear a lot of different buildings on the meadow.
Building tokens have different colors and icons according to their type. In the lower left corner, you will find their price for building, below the benefits you get for supplying them later during round. Power stations and tanks are a little different – although their positioning costs money, the bottom line indicates, how many blocks you put on them at the beginning of each year. This indicates, how much energy and water supply will be available to players for supplying the city and collecting rewards for it.
Players, however, must first draw some buildings, so that they each had six at the beginning of each round. This could be done easily – to draw six cards each, which also do, but players will keep only one of these six buildings. The other five they send to their opponent to the left. There is used a distribution of cards in City Tycoon, that is usually called "draft". After six exchanges of cards, the selection is finally stabilized and players can start planning.
Each of them plays one card and then it is turn of the other player. In addition to just building it, you may also sell the building to the bank or exchange it for the opportunity to add more power stations or water reservoir to the city. As player builds power plants and other buildings, he marks them with a coin in his color. The advantages of this building can not be used by anyone else.
During the construction of buildings, a player pays the required amount into the pot and puts the card on the table to build any part of town. If you can find some green, or blue squares in the left column, building requires grass or water in its neighborhood . Do not forget to lay down your chip on the building, so the owner is clear at first sight. In case that you are building a power or water plant, you add also corresponding number of colored cubes on it. Players alternate in the construction and sale of cards, until they run out of cards. So there will be a total of six phases.
Now the second part of turn is underway, which is important to gain money and victory points. Players are using bricks from power and water plants, or goods to supply the various buildings and areas and receive bonuses. Each field can be supplied only by player, who owns it and he can choose only one of the available options in the reward area.
The path to get cubes of electricity or water to the target, is very important. Provided that you are transporting energy through the opponent's box, you must pay him two dollars for it. Here is evident the importance of laying pieces – if you manage to close the enemy, you have guaranteed a steady income from his pocket. Once the transportation delivers enough energy and water, you can immediately take a reward – money from the pot, the victory points or goods.
Phase ends, when players have used all the cubes from power plants, or if they have no buildings to supply. In such moment one round ends and the other begins – you refill energy supplies to power stations, adjust the order of players (the poorest player starts) and take new pile of pieces marked with the Roman numeral one higher, than you did in this round.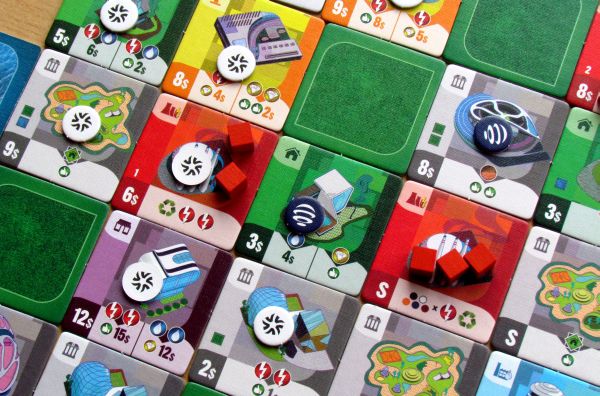 After the fourth round game ends. Players receive points only for the accumulated cash and one with the highest point gain on the counter, is the winner and the best city builder.
City Tycoon is a nice tile-laying game. But unlike the simpler strategies, where you do not have to think much about their positioning, here the location is crutial. It is followed by several other things. You have to watch to be able to supply a given location (ie, have enough free resources), but this place must be accessible through the parts of city you own, because you do not want to pay too much money. Some buildings also give players bonuses, when standing next to some other buildings. The city in addition to buildings is growing also with grass and water areas. Through water no stock can be transported to the target sites.
There is an ongoing shortage of electricity and water, so you have to build power plants, that are available to all competitors the same. Each card with them has two sides, however – one with more bigger but one-time income (at the beginning of the next turn it is not restored), or one with a smaller portion, but available in all subsequent rounds.
An even bigger problem is, when it comes to money. As with the construction of the proper city, there are money always needed, and only a little ways to get them. You can either sell valuable pieces in the building phase, or obtain a reception later in the supply phase. But often you need money to be able to supply, because only in that way you can energy and water over the opponent's location.
City Tycoon offers a fairly comprehensive strategic experience, while keeping the gameplay simple and rules easy. You will learn it easily after one reading and you will just wonder about some icons. Once you learn them, you will see, that they are logical and indeed make the whole game much easier.
Variability of individual matches is really excellent, especially for the lower number of players, which do not use nearly all urban tiles for each game – for each of the four rounds, you have more than a half still left. That way you can be absolutely sure, that the game will never repeat itself. The other variation is given, when it comes to players and their buildings. But due to the draft, it may happen, that in four players you can have the same set of pieces as in the previous game. But only as a result of your own decisions.
The only our bigger complaint is associated with the change of the initial distribution of buildings. Because the cards are not always equally represented, one of the lucky players may gain some building, that will help him to get ahead. But mostly, there is a path through the building, how to deal with this injustice.
The best is the game with two players, when there is not a large delay between the players' moves. The greater the number of players, the delays prolong and extend duration of later rounds, when the options are really wide. Some players have a tendency to think for a really long time here. And it can be annoying to someone. Fortunately, you can usually think through your own strategy and wait for you turn to come.
Graphic design of the game is nice and contributes to clarity. At first glance, the card clearly states, what it wants and offers. The only thing, that can sometimes be overlooked, are the requirements for neighboring tiles of water and meadows, which are hidden in the left column.
City Tycoon is surprisingly simple and at the same time great game, that we are not afraid to remotely compare to Power Grid. You have draft system instead of auctions and the supply of sites is a bit more variable and complex. You have to deal with the constant lack of funding and indeed carefully choose from many options, that are possible. So if you like slightly advanced strategy games, then you can introduce City Tycoon to your teammates.
Informace o hře ze serveru BoardGameGeek (odkazy směřují tam)
Autor
Hubert Bartos, Łukasz S. Kowal
Ilustrace
Jakub Babczyński, Jarek Nocoń, Wojciech Rojek, Hans-Georg Schneider
Vydavatel
Pegasus Spiele, Rebel Sp. z o.o.
Rok vydání
2011
Počet hráčů
2 - 5
Herní doba
120
Minimální věk
10 and up
Jazyková závislost
No necessary in-game text
(17 voters)
Kategorie
City Building, Economic, Transportation
Mechanismy
Card Drafting, Pattern Building, Pick-up and Deliver, Tile Placement
Více o hře
.
Plusy | Pros
+ building theme and supplying is popular and fun
+ variable buildings skills
+ draft
+ player must prepare their way for supplying
+ interesting illustrations
+ constant lack of finance
Mínusy | Cons
- more players slow the game down
Vaše reakce na článek / Your reaction
Mohlo by vás zajímat / Interesting