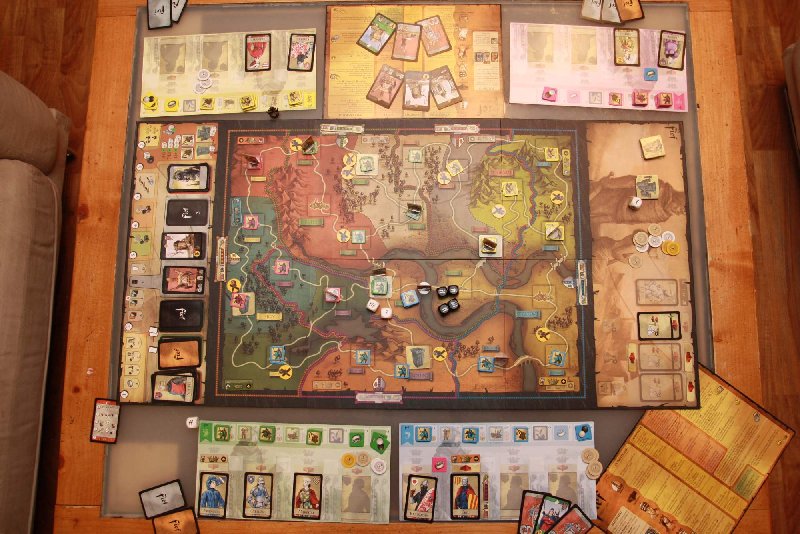 Although we find 2015 year printed on its box, Fief: France 1429 is actually not anything like this new. Philippe Mouchebeuf, author of this game, released his first version in 1981 to rework it about eight years later. But even that was not the final version. Year 2011 has seen another upgrade, and so we come to the current version published by Academy Games and dated to 2015. This is in fact the fourth edition.
Support on Kickstarter site was expressed by of more than four thougsand backers and got about four hundred thousand US dollars. Thanks to this campaign comes to us latest edition of the game, accompanied by several expansions, possibility of plastic models and many more. It is therefore a hitherto unparalleled luxurious version of the game, but price corresponds to it. And that raises a question, whether this game is really worth it.
We find ourselves in France in 1429. Noble families are fighting for power and control and they do it not only by expanding their territorial influence, but also by pulling invisible threads within the Church. Each player controls one kin, to which he may be born as a valiant knight. He is the fighter, who in fierce battles fights his own fief or a fine politician, who uses intercession and affirming to find his way into the highest ranks of the Church. He climbs this whole ladder from cardinal to bishop quicker,  than pope is able to name the Ten Commandments.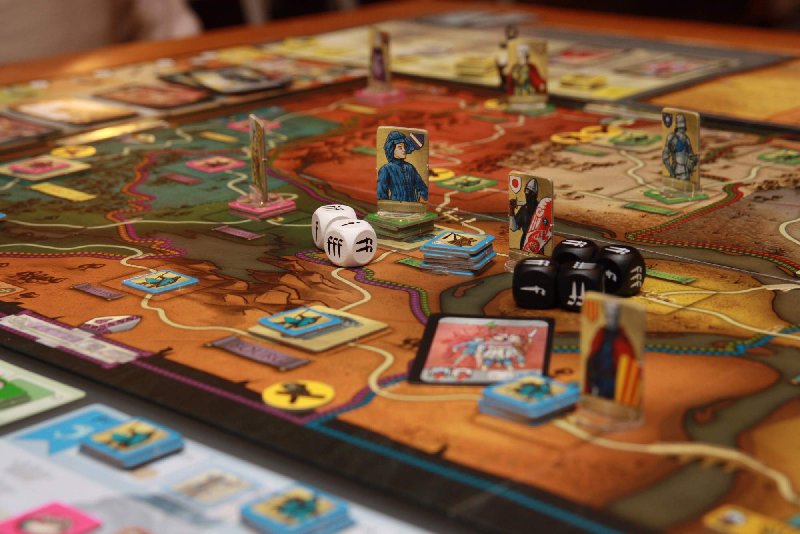 Aim of the player is to gain royal and papal title. Both guarantees one victory point. Others may be received for each fief or gaming area, they control. Players need only three points to become winner of the game. Assuming, that he has not entered into an alliance through marriage with any other player. In such a case both players need four points altogether. While they are two for it, it's a long way to go.
Each round of the game, in which two to four players try to achieve this, consists of several stages. These are, for clarity, marked on the board itself. One round always begins with announcement of marriages. As we have outlined, players may seal alliances with each other and fight side by side. But one must have a suitable bride and the other a suitable groom. As soon as rings are exchanged, they become partners in good and bad. At least outwardly. In fact, nothing may last forever and their pact may be annulled by pope or even an accident may occur.
Next phase of the game round are elections. Players have different numbers of votes depending on how high-ranking nobles have in their family. Mutually they choose bishop, the Pope or even king from suitable candidates. They must meet exact conditions, but in turn may bring quite a few advantages, including a possible victory point.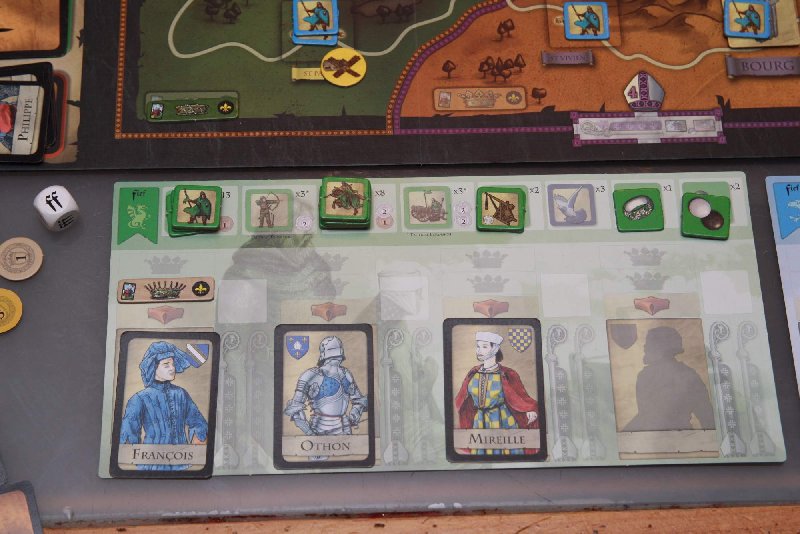 But the core of the game is hidden in another, following stages. First player draws a game card, that will allow them, apart from birth of another representative of their house, gleefully tease opponents by triggering events such as crop failure, heavy rains and plagues. Conversely, there are good events, that players can use to their advantage. And if they are not afraid, they can even collect tithes and rob residents by forcing taxes. This increases income to family coffers, which are usually fed only from villages and nearby mills, which players control on the game board.
Money allow players to buy valiant men in arms, build another mill or forts. And if they have enough power in particular territory, they can buy the whole fief or a cardinal's title for some of those pesky coins.
Fief is a game of conflict. What sense would it otherwise make to have your own personal metal knights and do not go to fight with them. Your nobles may gather ​​large military power under their command and go on the warpath. Actual battle is based on dice rolls. And while there was notable luck only in drawn cards so far, you now have to add possible unkindness of fate in rolled dice.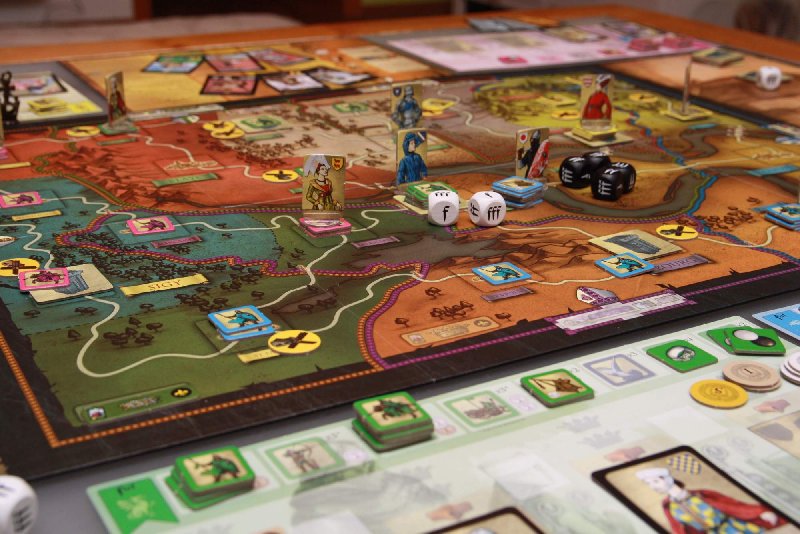 In the game, many, many more can happen. For example, you can capture a noble and keep him in imprisoned. You can assassinate someone, besieging castles and flee from battle through secret passages. Everything is very thematic.
This focus on the theme and atmosphere is also strongest argument of existence for this game. There is nothing more satisfying, than to invade a neighboring estate, which was suddenly decimated by pestilence and bad harvests. Victory brings sweet fruits, but with every fight, there is a risk of damn bitter taste of defeat. Therefore, you must consider, how much internal balance do you have in you. The game can play with your nerves easily. Influence of chance is big and game will act like it from time to time – in downright unfair outcomes. Not talking about opponents and their doings at all.
Many players complain about incomprehensible rules and constantly emerging issues. We must admit here, that we do not share this view entirely. It may be, that considerably heavier calibres have undergone through our editorial staff, but Fief seemed inconceivable to us just until first play. Then suddenly you find, that nearly twenty pages of rules and bilateral densely described summary table was in essence not even necessary. The game is, in terms of purely internal mechanisms, efficient and everything fits together well.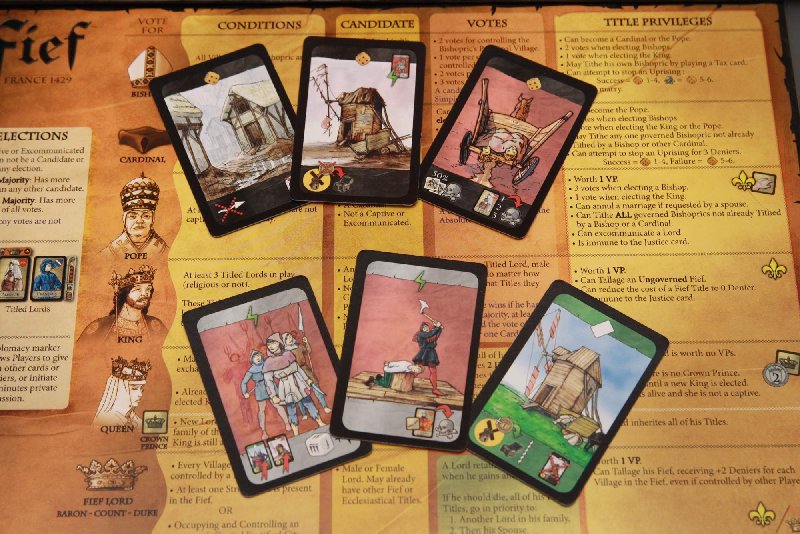 On top of all this being said, you'll find options to expand and restructure the game already in the box. And if you subsequently see your experience in Fief fading, there is nothing easier, than to pick up another expansion or at least plastic models to the game board, to get some improved visual perception.
Visuals themselves are a little inconsistent. On the one hand, game provides a relevant atmosphere and on the other hand, you will often find knights in bras and with pans on their heads quite ridiculous. Castle drawings then have a rather strange perspective and illustrations on the cards also do not work too well. But on the other hand, this makes t he game stand from the crowd, giving it proper expression, that makes it safely recognizable.
<br><br>
Informace o hře ze serveru BoardGameGeek (odkazy směřují tam)
Autor
Philippe Mouchebeuf
Ilustrace
Patrick Dallanegra, Jarek Nocoń
Vydavatel
ASYNCRON games, Academy Games, Inc., Ediciones MasQueOca, Giochix.it, hobbity.eu
Rok vydání
2015
Počet hráčů
3 - 6
Herní doba
240
Minimální věk
13 and up
Jazyková závislost
No necessary in-game text
(22 voters)
Kategorie
Medieval, Negotiation, Political, Territory Building
Mechanismy
Area Majority / Influence, Dice Rolling, Team-Based Game, Trading, Voting
Rozšíření
FIEF France: Gameboard, Fief: France 1429 – Crusades Expansion, Fief: France 1429 – Expansions Pack, Fief: France 1429 – Politics, Fief: France 1429 – Tactics, Fief: France 1429 – Templars Expansion, Fief: France 1429 – Teutonic Knights Expansion, A Song of Ice and Fief (fan expansion for Fief 1429)
Rodina
Country: France, Crowdfunding: Giochistarter, Crowdfunding: Kickstarter, Crowdfunding: Spieleschmiede
Alternativní názvy
Fief, Fief Francia 1429
Více o hře
.
Plusy | Pros
+ emphasis on story
+ rough atmosphere of the Middle Ages
+ simple combat system
+ high replayability
+ small additions seasoning game
Mínusy | Cons
- more complex rules at first sight
- great influence of luck
Vaše reakce na článek / Your reaction
Mohlo by vás zajímat / Interesting