Spiders! Well, would you believe that? We have lived on the island for more than a month and they have only appeared today. They crawled out of somewhere and started attacking us. We hoped they would leave, but they liked the taste of our flesh and blood and have grown more and more intrusive. We have no choice. We have to find the entrance they use and hope we can destroy their nest!
Spiders will also be bothering players, who decide to enrich their game Fireball Island with a new expansion with the title Spider Springs. Restoration Games introduced it to the market in 2019 and it comes to our Europe corner thanks to Esdevium Games distribution.
The novelty hides in a smaller box, but its height and Indiana Jones picture of a jumping spider and runaway hero on the lid already radiates fun. And indeed there it is – a new small island, that is covered with gray paths and in the middle hides a trampoline for spiders. Of course, their miniatures cannot be missing in the box, along with a set of two bridges, lots of spider eggs (which you will collect), a few new cards and one submarine escape tile.
The adventure of basic Fireball Island takes place on the island, from which players try to get away. While waiting for the helikoptér, they collect photos and especially precious treasures. But the island is not idle. For he is in possession of a dark being Vul-Kar and from time to time, this lord triggers a terrible storm of stones from his volcano. To move their heroes, players simply use cards, that randomly land in their hand from shuffled deck. They move quickly around the island, competing to find more wealth and perhaps even the heart of the Vulkar himself. Once someone takes the last color photo, the helicopter arrives and it's time to sum up points.
Spider Springs have the task of expanding the island, in which the entire duel takes place. The tutorial clearly shows, how the newly discovered part of the island will join the basic game. This will of course be reflected in the preparation of the game also in other respects. Even one tree on the original island is replaced by a bridge. On the new peninsula, spider eggs are spread around and while most of the spiders start aside, four are placed in a spring, that the players push it down to click. Expansion also includes new marbles.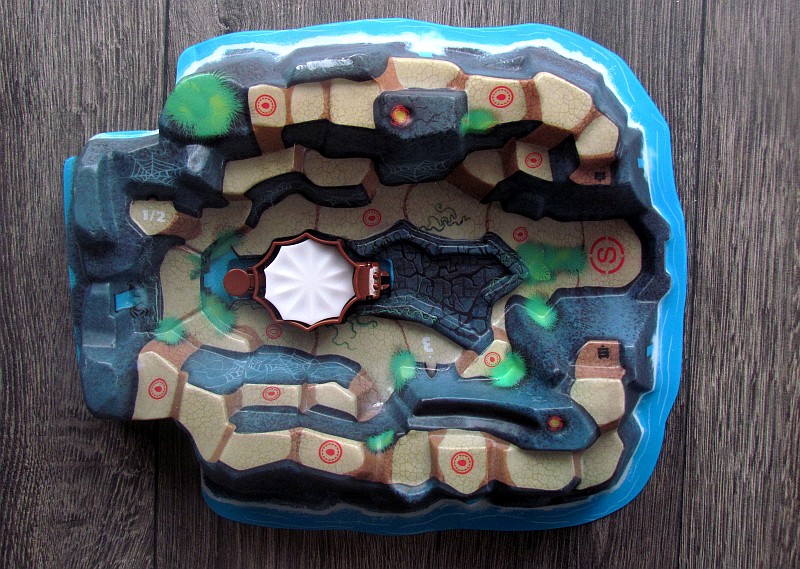 New card additions can be shuffled into theire respective decks to enrich the number of cards and thus improve variability. The same applies in part to the photo cards, that are new and will make the company take the original photo locations, lying next to the board.
But now back to the island itself. Heroes can not just simply cross the mainland to reach it. Instead, they must stray into one of the caves and roll the appropriate value on the dice. Only then can they choose a peninsula as the destination of their underground journey and emerge at one of the two places at the exit.
But it is still clear, that spiders are the main theme of this expansion, getting a lead role. They climb on players, whenever their miniaure find itself in a square, that one of these eight-legged monsters at least touches. And even outside of their turn. They simply jump on their backs and heroes don't even need to know about it. He will simply ride with him until the end of the game and bring him one negative point at the end.
Even more fun is with the catapult (spring), which from time to time fires and spreads new spiders on the peninsula. In addition, his winding mouth is again immediately supplemented with four new spiders from the supply, so you will never be short of new eight-legged friends.
Fortunately, besides serious problems, the spiders have one very positive message. They lay eggs on many places around the new board, which are a valuable trophy for heroes. Hero gets one point for each egg, he has in his possession at the end of the game. And the biggest egg collector gets a dozen more points as a bonus!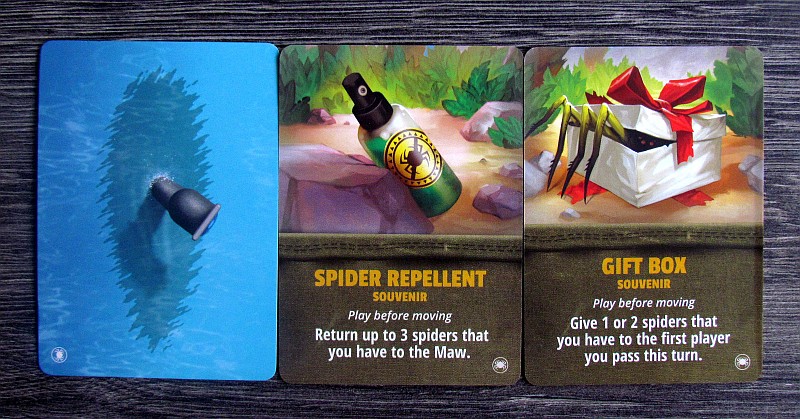 Because the eggs are so valuable, it is possible to steal them from opponents only by jumping over the rival, who has some egg in his pockets. So it is similar to Vul-Kar's heart. Again, the player must be careful about how they move around the island and who they are facing. The increment of interaction is welcome as players perceive each other much better in the game. There are many points at stake.
With new features, of course, the game is significantly richer and more interesting. So already great adventure with Spider Springs gets a new hub and creates even more interesting gameplay. At the same time, the new rules do not unnecessarily slow down or complicate the game. On the contrary, spiders are beautifully annoying, which is exactly, what you somehow subconsciously expect from them.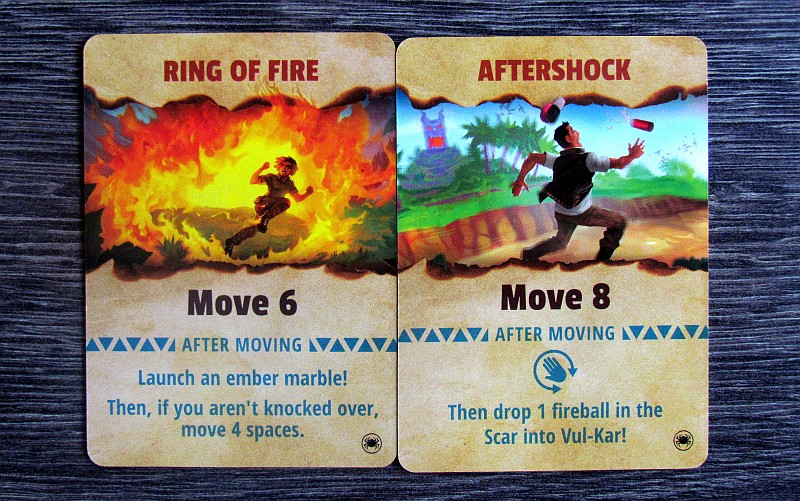 With the new expansion comes also a submarine and a second way to escape from the island. The conclusion of the game is also interesting, because even if you are away from the helipad, you can still think of rescue, when it starts to go tough.
Spider Springs is a good addition to the Fireball Island game. It all looks great again and it does not play very different, so that family fun is back in the best light. FIreball Island is a great Christmas gift idea and Spider Springs could be a welcome bonus. Just don't mind the higher price tag for the whole game. But if you already own Fireball Island, then this is a really fun expansion, that offers a lot of fun with spiders and the price is then not an issue.
Informace o hře ze serveru BoardGameGeek (odkazy směřují tam)
Autor
Rob Daviau
Ilustrace
Víctor Pérez Corbella, George Doutsiopoulos, Jason Taylor
Vydavatel
Restoration Games, Asmodee Italia
Rok vydání
2019
Počet hráčů
2 - 4
Herní doba
60
Minimální věk
7 and up
Kategorie
Action / Dexterity, Adventure, Animals, Expansion for Base-game
Mechanismy
Area Movement, Pick-up and Deliver, Push Your Luck, Take That
Rozšíření
Fireball Island: The Curse of Vul-Kar
Rodina
Animals: Spiders, Game: Fireball Island
Alternativní názvy
L'Isola di Fuoco: Bagni di Ragni
Více o hře
.
Plusy | Pros
+ spiders are fun
+ stealing eggs
+ new escape point
+ catapult for spiders
+ increases variability
Mínusy | Cons
- still remains the crazy, relaxing entertainment that some players don't like
Vaše reakce na článek / Your reaction
Mohlo by vás zajímat / Interesting