They say, that some island in the Pacific holds fabulous treasure in the form of four sacred items. These have priceless value, but only when you put all together. In smaller numbers, they are just worthless trinkets.
It is said, that this island is not natural and was built by mythical Atlanteans. And there lies the catch. Once a human foot enters the island, it will begin to sink. It interests you very much, since you are one of the historians, who have received a honor to go there and try to save these objects. The map, of course, was difficult to get and resulted in many criminal attempts to steal it. But fortunately the British Foreign Office managed to get this parchment paper and keep it safe. Now, there is no choice: You must become one of the paratroopers sent to the island and save the world's wealth from oblivion and destruction!
The map was originally discovered by Matt Leacock, who created a new family board game called Forbidden Island on the subject. The author's name is probably familiar to you, because of his huge success with the cooperative game Pandemic , which has settled in many homes and received even greater expansion.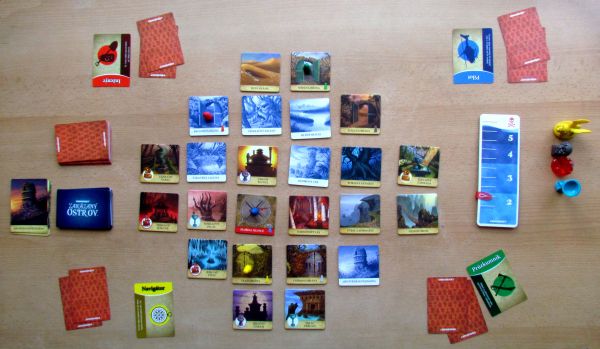 This time Matt embarked with cooperation on sea and decided to edit his game system from a global treatment of diseases to sinking of tiny island. For game publishing purposes, he chose this time team of company Gamewright, which is known for its card games, such as Sleeping Queens. Illustrations accompany the game C. B. Canga.
The game goes hand in hand with the current fashion trend for metal boxes, so it is fairly certain, that it will catch your attention in the shop. The nice dreamy illustration on the upper lid with the name Forbidden Island work together like a magnet. Soon you succumb to its magic, bring it home and lift the lid with the lighthouse. And you start to discover hidden secrets of the game.
And believe us, that it is worth studying. The box has a nice layout, so you can find in a pile of fifty-eight cards there, consisting of three background – flood cards, adventurer cards and treasure cards. In the second compartment, there is a pack of cardboard squares, that have on one side cheerful color illustration, and on the other the same picture, only in gray and full of sadness. Both sides display the same place, one above and one below the water.
The box hides also several other pieces – cardboard plate for monitoring the flood, extended in moment, you put mobile red pointer on it. This will serve as a water level measurement during the game. Now we have only few pieces left. They are the treasures, that you have to save, when walking and searching the island. You will find a beautifully crafted miniatures – The Statue of the Wind, the Earth Stone, The Ocean's Chalice and the Crystal of Fire.
Preparation of the game is quite simple and fast. First, you must prepare a map of the island, so that you randomly draw island tiles to form in a square with 4 x 4 dimensions. Then you add two more pieces to center of each side, so you get the shape of the cross or a diamond, as you like. Each player randomly draws one profession, which determines starting point for him and gets figure in corresponding color. With the character, he gets also a special ability. In addition to the board, you also decks of cards (shuffle them) and put treasures next to the board. Each player gets also two treasure cards to start with.
You set indicator of the flood to difficulty you want to play – the higher the starting sea level, the worse and harder the game gets. And since you have already landed on the island, it slowly began to sink – from the shuffled deck of cards with blue background, you reveal six cards with the names of places on the island. Gradually you find these places on your map and turn the pieces its submerged side up. With this, you have already begun the flooding effect.
Remember, that this is a cooperative game, all informations are public here. Your treasure cards are layed in front of you, so that other players can see them. It is important to continually discuss, how to proceed with the game. Players each get cards, that can be used in this game to pick up the treasures. Each of the treasures can be found in two locations on the board, but you must have four cards with its picture in your hand. It is not easy, because you can hold only five cards simultaneously, you have to throw surplus cards away.
Each player turn consists of three actions and two drawing of cards. You move only one pawn during each turn, but recall again, that the decision should be shared and turn restrictions for one player should not apply here. Action Points can be used for four different actions: movement, transfer of cards between players, protecting the tile (with bags of sand) and picking up the treasure.
Most important, of course, is to keep pieces from sinking, by turning them constantly back. You will use one of your action points frequently on this activity. As soon as the movement of your pawn ends, here comes the card drawing. First, you will get two treasure cards with pictures of the items. These cards will allow you to pick up treasures. There are also special cards mixed in the deck, that can be used out of your turn. But there are hidden also events causing the water to rise.
Then you take over the role of insatiable water for a moment and cause island flooding by turning as many cards from the deck floods as is number shown on the actual water level. At the beginning of the game, it will be only two cards each round, but with time the water rises and it will be more and more. You must now flip both pieces corresponding to these drawn cards and make them flooded.
Event "Water rises" causes increasing of water indicator. And on top of it, all used flood cards are mixed and put back on top of the flood deck. This will cause, that every location names you have drawn till then, will repeat. And if such event occurs and you forget to turn the tile back to its colorful side, then you lose this place forever. It is flooded and out of reach now.
Fortunately, the necessary places to pick up the treasures come in two copies on the plan, so it does not matter, if you lose one. Much worse situation occurs, when you lose the helicopter platform, which is the only place, where you can leave the island. In this case the game ends and you remain trapped on the island.
Players can switch cards during a game, when both their pawns stand on the same place. In addition, each of characters has some special abilities, like pilot can move for one action on any tile on island, navigator can move other player pawns and messenger can give cards to player without meeting him on the same spot. And if you want to succeed, it is necessary to use these skills often.
Forbidden Island wears a family coat of Pandemic. And it still remains surprisingly difficult, although most of the gameplay is very similar as its older brother. It all plays smoother and more particularly in much less time, than the hit of the preceding year.
Everything is elegant thanks to ease of use – you do not need to move cubes and just rotate the pieces on the island. But again, you lose an elegant and beautiful spreading of infection from town to town, which made Pandemic a fascinating spectacle.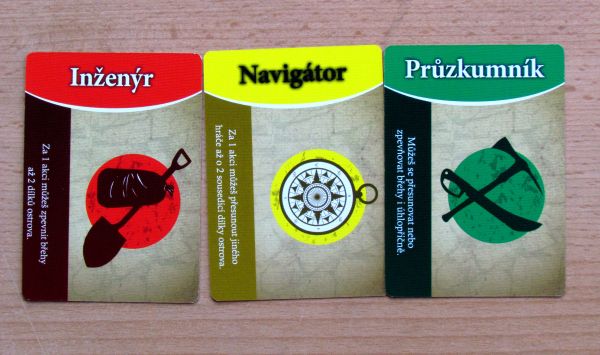 And even though it is a family entertainment, it needs real effort to be won. Game is not simple and for the great players offers difficulty settings. Much will depend on how you can spread locations on the island – if you have the helikoptér platform somewhere on the edge, it will be much harder for you to protect it.
Forbidden Island offers several levels of difficulty, so if you start at lower levels and game seems simple, just increase the initial level of water. This means less time, before you pick on more cards and flood levels will rise and rise …
The cooperative game system in combination with the family nature of the Forbidden Island brings a logical snag. If parents play with children, they will have a great tendency to lead and advise them. For the full experience of escaping from the island, it is very important, that players work together. If children can play it, it is good to have them play the game by themself, and only with your supervision.
This leadership problem occurs not only in family play, but also in other groups. Dominant personality just want to tear down all the controls on their side, and all the fun then disappears. That is why the solution is either to find the right mates, or to agree on the diversification of roles in the game – for example, one player is responsible for the cards, the second movement and the like.
But Forbidden Island catches all the little glitches with its processing. It begins with a metal box, well illustrated cards and ends with all the beautiful pieces of treasures. The whole game has a pleasant and interesting appearance, so that it does not only plays well, but is also nice to watch.
Altogether Forbidden Island is a really nice game. If you were daunted by Pandemic's topic or its complexity, then the Forbidden Island is the right co-op for you. It provides really great input bridge into a cooperative experience games. You will enjoy it with a lot of great fun and simplicity, and yet the game does not take long. You just have to know how to cope with setbacks, as they surely will come. Forbidden Island is for children in the first place and for them, it is an excellent game. Before the water there is no escape. But the treasures are worth it, don't you think?
Informace o hře ze serveru BoardGameGeek (odkazy směřují tam)
Autor
Matt Leacock
Ilustrace
C. B. Canga
Vydavatel
Gamewright, ADC Blackfire Entertainment, Arclight, AURUM, Inc., Cocktail Games, Competo / Marektoy, Devir, FoxMind Israel, Kaissa Chess & Games, Kanga Games, Lex Games, Lifestyle Boardgames Ltd, NeoTroy Games, Rebel Sp. z o.o., Reflexshop, Schmidt Spiele, uplay.it edizioni, White Goblin Games
Rok vydání
2010
Počet hráčů
2 - 4
Herní doba
30
Minimální věk
10 and up
Jazyková závislost
Some necessary text - easily memorized or small crib sheet
(102 voters)
Kategorie
Adventure, Fantasy
Mechanismy
Action Points, Cooperative Game, Grid Movement, Hand Management, Map Reduction, Modular Board, Pick-up and Deliver, Set Collection, Solo / Solitaire Game, Variable Player Powers
Rozšíření
La Isla Prohibida: La Expansión Prohibida
Rodina
Misc: Mensa Select, Series: Forbidden Games (Gamewright)
Alternativní názvy
Forbidden Island 禁忌之岛, Den Forbudte Øya, A Ilha Proibida, Insula Interzisa, La Isla Prohibida, L'Île Interdite, L'illa prohibida, L'Isola Proibita, Lanetli Ada, Salaisuuksien saari, A Tiltott Sziget, Het Verboden Eiland, Die verbotene Insel, Zakazana Wyspa, Zakázaný ostrov, Η Απαγορευμένη Νήσος, Запретный остров, האי הנעלם, 禁制之島, 禁断の島, 포비든 아일랜드
Více o hře
.
Plusy | Pros
+ metal box
+ treasure figures
+ simpler and faster Pandemic
+ quick setup, easier manipulation and gameplay
+ variable difficulty
+ lots of characters with different skills
Mínusy | Cons
- basically same as Pandemic (can be a plus for some)
- random island tiles influence difficulty of game
Vaše reakce na článek / Your reaction
Mohlo by vás zajímat / Interesting