I always thought, that I was resistant against the gold rush. All those people drowning in sand by the river are leaving me cold, even if someone shouts, he had found a nugget. As a businessman, I have a steady job and secure income. But then, I accidentally found myself on the shore, when someone found entrance to ancient temple on the other side. It probably had overgrown with trees and bushes in all those years, and only a lucky coincidence led him inside. But he was irrational and wanted to get help from his friend. They walked out on him and ran for the gold on their own. I heard it too and suddenly I realized, that I´m on the river bank, looking for a way to cross it as soon as possible.. I cannot help myself..
Such gold can also be found in board game Gold am Orinoko (Orinoco Gold in English) published by the company HABA. Its author is Bernhard Weber and detailed illustrations all around rivers and other components were performed by famous Michael Menzel. Game was released in 2013.
Inside the yellow box with a number of adventurers hurrying over logs to the other side of the river, there is in the first place this broad blue stream. Orinoco is the main hero of the game and it extends over three big puzzle boards, which are combined into one large. But at the same time, this board is divided to a lot of small square boxes.
Most other components are made of cardboard. You have drove there with one of four terrain vehicles, each with a different color paint. Behind them, as a surprise, there are logs of various lengths, again divided into boxes. Players themself can enjoy their wooden figurines, that are equipped with prepared stickers, and thus give them personality. The list ends by eighteen gold coins and a pair of dice.
At the beginning of the game, players complete the river board from three parts. By the waterfall coming from mysterious stone head, said to guard a treasure (perhaps one, that is waiting on the other side of the river!), are placed five logs. Eighteen gold coins are shuffled and randomly spread on the opposite side of the river, where is some kind of mythical stone building. Some of them are turned with their value up, other remains secret for now. Player choose pair of pieces of their color and also get one all-terrain vehicle. All adventurers will now stand to the camp on the near side of the river, while they place cars on the table in front of them.
All participants take turns. At the beginning of it, player rolls a pair of dice to determine the movement of his pawn and one of the logs. Order of these two values can be determine by the player, he thus can move hero or wood first. But when the movement of logs is done, all the trunks of trees must always be adjoining with at least one box.
When player finally starts running with one of the two pawns (you can always move just one character), he must use all the dots to run a distance, moving horizontally or vertically. He can jump to the other side only, when that field contains gold coin. The heroes can jump there from a log, but they may never proceed along the wall of the temple and have to return to the camp with their loot. Fortunately, this time it is not the job for player, since moving back to the car is free. Valuable coins are loaded on the truck and player may attempt another crossing with this character.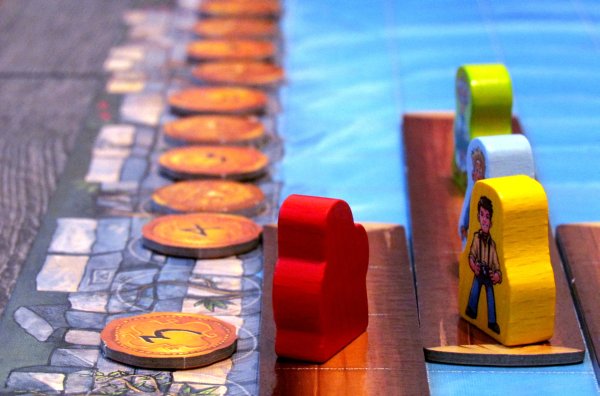 Players take turns moving logs and pieces until one of timbers flows out of the board or moment, when all the gold coins are collected. Player with the highest total value of the coins has become the best gold hunter.
Gold am Orinoco is an adventure game, in which you jump across logs and try to reach the other side first. But such a victory is still only part of the story, because there are more coins on the other side. Unfortunately, they are so large, that nobody can carry more than one at a time.
Fortunately heroes know a shortcut back, so you can not lose a coin anywhere. Once you arrive there, no one can take it from you and you can load it on your car. Because of this, match is moving quickly and it seems, that everything depends only on the roll of the dice. But while players can plan and move characters, they can also try to make it harder for others by good movement of logs. The order of actions is at this moment the most important thing. Effect of luck is further reduced by choice of two characters (and five logs) each time.
Logs swim very quickly, so some coins remain on the bank usually unattainable. Chances to pick up larger amount of them depends on how many players are participating. While with four (and therefore eight action figures), you will experience a hard fight for each gold coin, two players have more freedom. Figures furthermore move slower, because there is not so much skipping over opponent pawns. But it also means, that two player game is almost as long as four player. Everyone will have a pocket full of gold in just fifteen minutes.
Thus, the game looks pretty random, but in fact even between pips on the dice, there may be hidden tactics. Mainly because dice have a maximum of three (or four in case of adventurer dice) dots, and there is not as big difference between hero movement.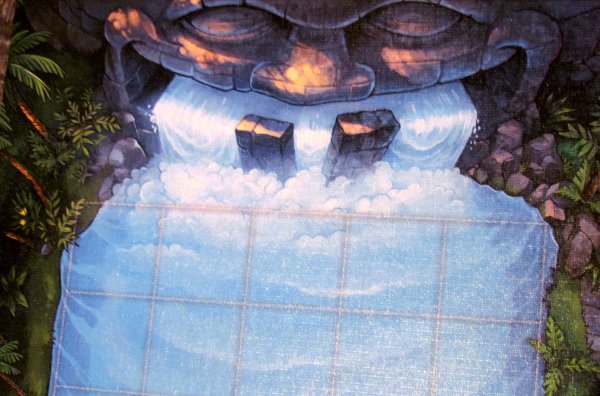 Gold am Orinoko is recommended for players aged seven years, but can be easily played even by six years old children, when you help them to count and they will train it as the game progresses. Basic tactics can be certainly handled in their age and thanks to hilarious graphics and size of the board, they will greatly enjoy the game. That´s, why we like Gold am Orinoco and it can be definitely recommended for those young miners.
Informace o hře ze serveru BoardGameGeek (odkazy směřují tam)
Autor
Bernhard Weber
Ilustrace
Michael Menzel
Vydavatel
HABA
Rok vydání
2013
Počet hráčů
2 - 4
Herní doba
20
Minimální věk
7 and up
Jazyková závislost
No necessary in-game text
(4 voters)
Kategorie
Children's Game
Mechanismy
Dice Rolling
Alternativní názvy
Goud aan de Orinoco, Orinoco Gold, El oro del Orinoco, Oro nell'Orinoco, La Traversée de l'Orénoque
Více o hře
.
Plusy | Pros
+ one coin is not enough
+ choice of two figurines
+ any order of dice
+ heroes skip over each other
+ fast in four
+ nice processing and illustrations for children
Mínusy | Cons
- luck in dice can help you to victory
- restrictions on the movement of logs is against smooth gameplay
Vaše reakce na článek / Your reaction
Mohlo by vás zajímat / Interesting