It is about time, that someone took a firm hand over the kingdom of Solomon as a successor to the greatest king of Israel of all times. But there are more candidates. Wealthy buyers from surrounding towns began to vie, each of them promoting the general interest and trying to seem beneficial for most people. Let us also take part in cultivation of Israel.
It is in this unusual environment that a new board game from Minion Games called Kingdom of Solomon takes place. Its author is Philip duBarry and illustrations of all the cards and game plan were prepared by Ricky Hunter. Israel is not traditional place for a story of a board game. And the Kingdom of Solomon tries to change that.
Despite its small light brown box, you will find quite variable set of game components hidden within. Because it is not a card game, everything is covered with the game board, that shows the map of Israel. At first glance you may feel, that the board contains too much text, but do not worry, the whole game is quite simple. It is an worker-placement game and try to capture as much power as possible with these forces.
These pieces of wood you see, are your servants, the second part. Figures, however, are not of the traditional carcassonne style, but more like classical pieces for Ludo. Maybe they are a little bigger. Wood is produced in four colors, and players will also get small cubes representing municipal building, which will they deploy on the plan during the game.
Little wooden sticks represent roads for linking the Israeli areas. When you connect, you can then get more revenue from them – like colored cubes representing the raw material – timber, gold, copper and stone.
The list of those parts closes with material made of paper and cardboard – of course there are multi-page rules, which simply and clearly describe the entire game principles. Made from paper is also one big pile of cards, that come in two types – fortune card rewarding you with victory points, and then especially the latter representing buildings. A few pieces of cardboard coins is the very last thing in package to discover.
Although the Kingdom of Solomon will again ask players to send their workers to places on game board, in an effort to make the most of their turn, the game includes several new and original principles. The basis of all (although this is not really complete new feature) is, that there is no in-game currency. All your shopping needs to be payed by victory points, which is excellent in terms of gameplay. But it is also very often double-edged weapon for the players and causes many headaches.
Fortunately you do not use purchases for points in a game as much as their individual profits, or pick up of materials. We will get to that, as soon as we prepare the game. All piles of different kinds of materials lay next to the board in the beginning. Each player takes his color pieces – workers and building cubes. Roads have only on color and have no owner either before or after putting them down on the board. Everyone uses one of their bricks to set a point counter on the number ten, in order to have something to spend in the beginning of the game. Initial order is randomly determined for the first turn.
Although there is marketplace on the board, it remains empty at the beginning of the game, until it is filled by selling some brick by some of the players. Building materials are limited in the game (and very limited!), so you constantly have to deal with its shortcomings. That is, why the market can operate only by selling to it and buying from it afterwards (for the victory points, of course).
The only thing, how you can prepare game board, is to deploy five buildings from the shuffled deck. These buildings will be available later in turn, and until someone buys them, they will not disappear from the menu. So do not be afraid, that you lose them, but you have to buy even the less interesting or wait until another of your rivals takes hold of them. Only shuffle the second deck of cards and let it lie next to the plan. Now the game can begin.
Each player has several pieces, that he can deploy to a lot of active sites on the board. The Israeli territories are absolutely essential, because each visitor brings with him some of materials from there. In one area, there may be only one worker. In addition to these geographic locations, you can also use the actions at the top right corner of the plan, where are located various strategic options, such as drawing fortune cards from the deck.
The players alternate in placing workers, so everyone always places only one and waits for others. So the game plan fairly fills in the end and the tension begins to increase, when players would still like to use some of those available strategic options.
But here comes the one of the major twists throughout the game of Kingdom of Solomon. The map contains three special fields (Ark, Altar, Tribute), which can also hold workers. But if you want to use them, you must put all your remaining workers there. You either use this option, or have a chance to make one or two more moves in the ordinary way.
Nerves and tactics come come into play here. Some opt for a large reward on these special fields, while another will use their workers else to give them some partial profits. Everything is a matter of individual preferences and decisions, and everyone pays something else.
Now, players in order (if accidentally materials run short – those that still come on line get nothing) will evaluate all the actions and take materials or cards, they can move the counter to get more victory points or change order of play.
Then the second major part of the turn follows – construction. With the help of their materials, all rivals can gradually build a building, road, or part of the temple. And we now tell you, what it actually is.
The simplest option is raising a building – it is wearing a fixed number of resources, that must be payed by the building player to get the card. From now on, this card is another active element of the game and that player can use it and send his workers there to use its ability in future rounds. Moreover, it it worth a pack of victory points (usually between ten and twenty points). And by raising building, he get the privilege to put one of his colored blocks in one area of Israel. This marks the site, where the building stood and also locks this site for your pieces – no one else can come in and take advantage of its wealth.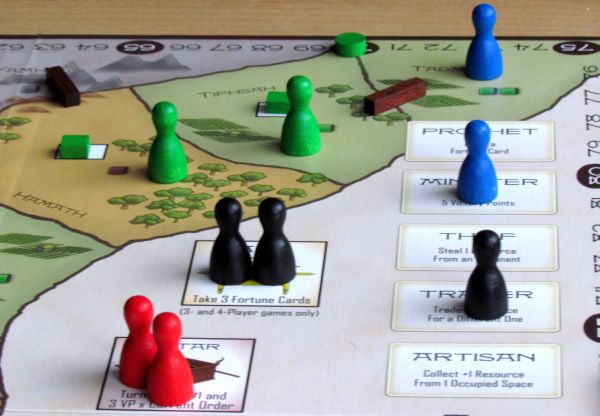 As you can see, the construction of the building is a powerful weapon, because it greatly benefit players immediately on three fronts. Offer of the five buildings is quite variable and each player can choose one, according to his tactics. But their price is high, so it is not easy to save enough materials on some buildings, before someone else does.
Therefore, you would sometimes prefer to build a much cheaper roads. These provide connection for two neighbouring areas on the map, so they will essentially act as one since next turn. At least in terms of providing resources – if you put a figure in one of the related areas, you get materials for both (all) of them.
Over time, you can create a strong combo with roads, that delivers large quantities of materials. But then, you will very quickly reach a ceiling of colored cubes in the bank. This limit skillfully reduces run away problem and becomes extremely important for players, when it comes to building strong material support usable only with one action (also the order of players counts here very much).
The third option is to raise the temple building – it rewards its builder with immediate victory points. Players will have great interest in its completion, in advanced stages of the game, when the victory is decided. But even at the start of the match, this temple is important, because he, who controls it, has the opportunity to once per round lay his worker on foreign territory (with foreign building).
The game ends, when someone finishes fifth building. Until then, however, it can be ended by completing temple. Players then add points for fortune cards, that could bring them a bonuses in the end and also for the remaining materials in their stocks. Player, who managed to amass the greatest wealth in the form of victory points, is the winner.
Kingdom of Solomon is a pleasant surprise for us in the field of games with worker-placement. It is not so much focused on the collection of materials and their usage, as Pillars of the Earth or Stone Age, because the currency is used at the same time as victory points. This makes it much harder to spend hard collected points in the market for materials, than it would be with the ordinary coins.
The most interesting principle are definitely boxes, that can be used only under the condition of deployment of the remaining workers. Each round and every move is interesting, because everyone would like to use and conquer these boxes, because they have really strong powers on them.Their availability varies by number of players – only one is available in two, two in three and three in four.
Basic rules recommend that you play for example in two players only with one of these particular boxes. A much better option was presented by one of the fans at the BGG forum and the authors stated, that it will be definitely included in a future version of the rules – open all three boxes, but only until some of them is used by one player. The other two are locked since then and the other player can not put his pieces there.
The rules are basically simple, but a little confusion might rise, when it comes to linking areas via roads. They combine multiple fields into one and no matter, on which of them you send a worker, you get materials from all of these linked sites. Thanks to this, indeed, income of players rises significantly in the game. Some players have complained that it is slightly unclear stated in the rules, although we found it quite graspable.
System of self-maintained marketplace is elegant. In the beginning there is no offer, but players would like very much to exchange merchandise for the victory points according to fields filled. Soon, however, some of them will get into a situation, that they need to buy expensive cubes back.
Graphics on cards work nicely. Game board is filled with text, which gives it slightly fussy feeling. In addition the graphics is rather strict, which is enough for you to enjoy the game, but it will not blow you away.
Kingdom of Solomon has a lot to offer. Apart from some very interesting ideas, it offers a nice fun for a worker-placement game. In addition, as a bonus, you'll get non-traditional environment of Izrael state. It is nice and fast flowing fun for all fans of simple, strategic and creative games.
Informace o hře ze serveru BoardGameGeek (odkazy směřují tam)
Autor
Philip duBarry
Ilustrace
Clay Gardner, Ricky Hunter
Vydavatel
Minion Games
Rok vydání
2012
Počet hráčů
2 - 4
Herní doba
60
Minimální věk
12 and up
Jazyková závislost
Some necessary text - easily memorized or small crib sheet
(3 voters)
Kategorie
Ancient, City Building, Economic, Religious
Mechanismy
Area Majority / Influence, Commodity Speculation, Enclosure, Network and Route Building, Variable Phase Order, Worker Placement
Rozšíření
Kingdom of Solomon Promo: Levite Camp, Kingdom of Solomon: Chronicles of the King
Rodina
Country: Israel, Crowdfunding: Kickstarter, Religious: The Bible
Více o hře
.
Plusy | Pros
+ israel theme
+ victory points are currency
+ boxes requiring placing of all remaining workers
+ using of buildings you own
+ several endings
+ lots of tactical way to victory
Mínusy | Cons
- worker placement again
- overcrowded game board
- too much space with fewer players = less interaction = need to shrink the map
Vaše reakce na článek / Your reaction
Mohlo by vás zajímat / Interesting