Our whole land suddenly froze. Nobody knows, how it happened. One day, we just went to sleep surrounded by green grass and woke up into a completely white world. Neither the guards, who were on duty that night, did notice it. As if every one of them has closed their eyesat the same time. And when they opened it again, there was frost everywhoere. No snowing, nothing like that. Just there.
We are gonna get cold too soon. There was a great cooling in the world of Krosmaster Arena (review). We will be again lead into the arena in expansion subtitled Frigost. Each and every krosmaster will want to be there. Game was published already in 2013, but we managed to get it only now. Authors are Nicolas Degouy and Édouard Guiton with illustrations by Alexandre Pope. Publishers are companies Ankama Games and Japanime Games.
Low square box is again under control of heroes. They are guarding game board, which is two-sided and represents two new snow-covered arena. And then, there are plastic bins, that hold firmly one new miniature, Count Harebourg. He is portrayed also on the only two cards, that are located inside the box.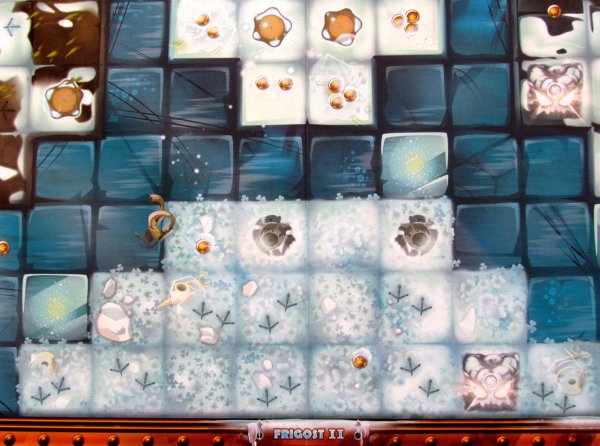 Neat package of news, however, starts with cardboard components. There are 72 new demonic rewards, but also fifteen new summons to call. Because its frost everywhere, there are also tokens for injuries, action points or movement, all carved from ice. And then there is nature. Specifically, trees and shrubs, that players will have to carefully put together and these new plants are covered with snow, just as a new set of crates.
You may remember our article on Krosmaster Arena from last year. Game disarmed us with its visual aspect, but it was also great fun and hit in our playroom. In Krosmaster Arena, players are in control of several characters and lead their team towards victory. They fight together, use abilities from cards and attack. Only one of rivaling parties may survive. There is a lot of small rules in the game, that make it pleasantly complex. Their exploration will last long after first unpacking.
And now, Frigost is here to even expand this gameplay with its icicles. So what new does it add? Thus, besides the obvious, arena and new characters? There is a lot of news and first concern is eponymous feature – frost. Heroes are fighting under new rules, because they can receive frost damage from their opponents, because new spells are just focused in this direction. Such injuries can not be healed so easily. Overall, it is much harder to get rid of the damage, because you can use a new thawing action for two action points.
Then there are demonical rewards. Specifically a huge pile of them and most of them deals with magic tricks of ice. But there is also new equipment and also a brand new level of ruby improvements, that will turn your warriors into unstoppable machines. Just discovering these new tiles and their combinations is fun for a truly long time.
But that is not all, because new arenas are a lot different and definitely not for beginners. They have a different layout of elements and put more tactical demands on players. Thanks to this game, your options are again postponed another bit further. But it is never at the expense of length, which remains similar.
Overall, gameplay is near basic game. While there are some small new rules in there, but these are clearly drawn on the back side of the rules. Thus, a user needs to read them only once and for experienced krosmaster fighters, there is nothing to hide or deceit. Game works exactly as before, only with new knacks. If you introduce newcomer to combination of basic game with Frigost, they would probably not even recognize it. So much it all fits into the gameplay.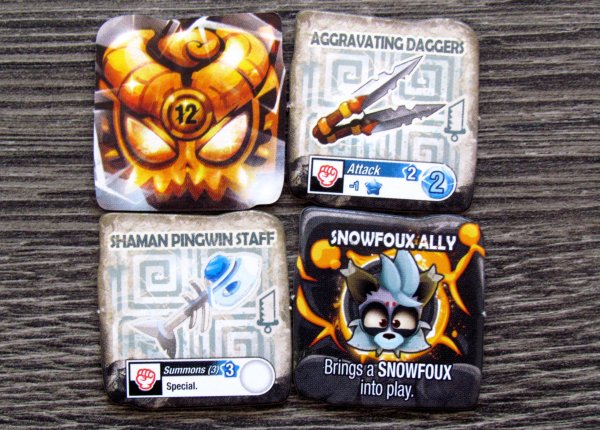 Processing is precise. And especially with a miniature, but cartons are also strong and building all the physical elements for map is easy and maintains its shape well. Perhaps there might be a little more of components overall, because visually you might be disappointed about the contents. On the ratio of new gains in entertainment, there would certainly be no sad "ohh" there.
Krosmaster Arena: Frigost is a very good expansion. Disappointing for fans is the fact, that it contains only one new miniature. In light of the truth, these figures are the main deal of Krosmaster Arena, but Frigost still offers a pile of new entertainment, that can easily be recommended to all those, who have this game at home. It is an excellent addition to your collection.
Informace o hře ze serveru BoardGameGeek (odkazy směřují tam)
Autor
Nicolas Degouy, Édouard Guiton
Ilustrace
Alexandre Papet
Vydavatel
Ankama, Ghenos Games, Japanime Games, Pegasus Spiele
Rok vydání
2013
Počet hráčů
2 - 4
Herní doba
60
Minimální věk
12 and up
Jazyková závislost
Some necessary text - easily memorized or small crib sheet
(6 voters)
Kategorie
Expansion for Base-game, Fantasy, Fighting, Miniatures
Mechanismy
Action Points, Push Your Luck, Variable Player Powers
Rozšíření
Krosmaster: Arena, Krosmaster: Quest
Rodina
Admin: Better Description Needed!, Crowdfunding: Kickstarter, Game: Krosmaster
Více o hře
.
Plusy | Pros
+ new miniature
+ frost element through entire box
+ an enormous amount of new rewards
+ excellent replayability
+ equal gameplay
+ two new tactical arenas
Mínusy | Cons
- only one miniature
- feeling, that expansion could contain more material
Vaše reakce na článek / Your reaction
Mohlo by vás zajímat / Interesting