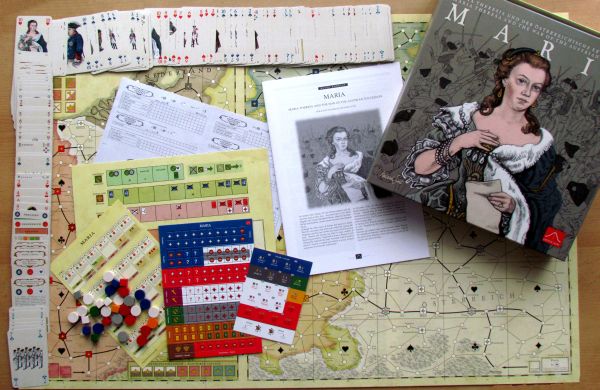 In 1740 Habsburg ruler Charles VI died in Vienna. Speculations say that it was after eating poisonous mushrooms. His successor became the first woman of the house of Habsburg, 23-year-old Maria Theresa Walburga Amalia Christina. But she landed on the throne at the wrong time – her father spent his entire life securing deal of pragmatic sanctions, but he devoted only little time to financial aspects of the empire and providing the needs of the army. The whole country was thus in 1740 in a poor state, but that army numbered 80,000 loyal soldiers.
Without any experience with ruling, she turned for advice to her husband and also relied on previous decisions of her father, that she found adequate. Succession of Maria was acknowledged by the allies, but they still broke their promises to Charles VI. Prussian king Frederick II. attacked Silesia and requested Marie-Therese to give it up. Also France and Bavaria turned against Austria over time. This is how the so-called War of the austrian succession began.
Yet she managed to give birth to sixteen childern during her life, because she ultimately resisted betrayal of other nations, and even attempted to retake Silesia in the Seven Years War. In her struggle, the so-called Pragmatic army helped her.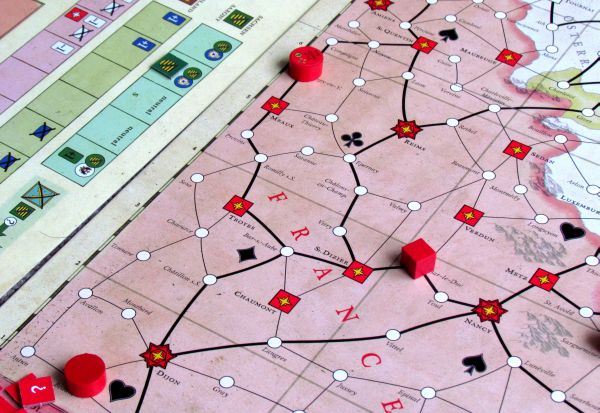 Thanks to Richard Sivel, we can now live her arduous journey and life in a historic war board game called simply Maria, who tells us story of the War of Austrian succession. It is published under the wings of company Histogame.
The box has a green color in its unusual and distinctive shade. On the lid of the box, a contemporary portrait of the heroine is drawn. In addition to her, we will find also other important personalities of that period: Frederick and Louis XV. Package includes mainly the most important part of all – big fold-out game board, which contains separate maps: Flanders and the second part is Bohemia. These two parts are visually well separated and connected only by two roads.
The box, in addition to the board, also includes several papers, that should be cut to smaller pieces. They will serve as a notebook to write down the numbers of individual generals and their armies. They are secret in the whole game. There are also four colorful decks of cards, each containing 38 similar cards with values from 1 to 10 and also with colors, that we see on classic cards. These are diamonds, clubs, hearts and spades and are of great importance for the game.
But lets get back to the packaging, that has also its small share of the wooden components. You will use stickers to make generals of the little colorful wheels of wood. The square shape stand for the supply trains, that each army needs to have.
From one small sheet, you will snap a lot of little tokens, that serve for the recording of the current round of games, but also for distribution of victory points for the conquest of cities on the map. We have almost forgotten the fifth deck of cards, which consists of political events, and also hint cards, that will quickly remind you of all the major rules important to the game. A list ends with booklet of rules, which contains a total of two languages (german and english) and is black and white.
Maria, unlike many war games, has no complicated rules. A little more complicated, however, is its preparation, which starts with chosing sides. Because Maria is a game for two to three players, a lot depends on how many players are playing it. We can say, that the full number is better for the game and so we describe it in the next few articles. Three players will split all the participating nations – one of them will fight on the map of Flanders, the other on the map of Bohemia.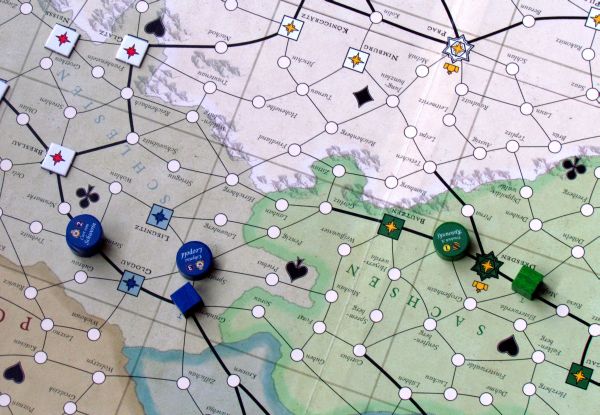 Special and absolutely unique role is for the third player – he will be the tongue on the scales. While his Pragmatic Army will be an ally of Austria, his armies of Prussia and Saxony are enemies of Maria.
Players then according to their chosen role také corresponding colored pieces of paper and cut out paper for notes about troops. Next to the board, there are placed four decks of tactical cards and political events in four year decks.
According to the initial instructions, all players deploy their generals on the map. For ease of preparation, you will find a reference to map coordinates (just like on conventional geographic maps), so it is very easy to prepare everything. Fields for the initial distribution are also marked with red dots. Besides the generals have their cube representing supply train, which will be very important during a game. On the map some cities get victory points, some of then get election token.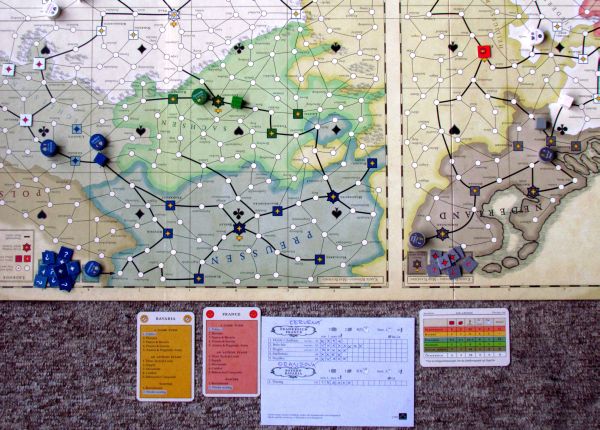 Now the last thing remains: distribution of power between generals according to player strategy. Each player has a total number of troops for each general. Secretly they assign them, and must comply only with limitation of less and most soldiers, each general can get. It is important that even during a game, any general must not exceed eight soldiers under his command. All players get a certain number of tactical cards, as clearly stated on help card for each participating land. Cards for the political events are also part of the game, divided into four years. Prepare them on the political board, which is the place, where players will fight for them.
The game turns are divided by nations. That means, that some players will play more than once during one round. Everyone has the same options available. At the start, there is waiting political phase, which is played simultaneously. With the help of tactical playing cards, players fight for two exposed policital cards. They may then carry out gained event or just discard it.
In 1742 elections, there are two candidates – Mary's husband,Francis and Charles Albert of Bavaria. The game has a total of nine votes in the nine cities. The player that controls the fortress, gets a point for himself. According to the election winner, one of the players seizes one victory point for his side of the conflict.
Turn proceeds simply by drawing a number of tactical cards and physical movement of the generals on the map. In a normal turn, a player can move generals up o a distance of three towns, but if you go only on the main road (in bold), you can move an additional town. In special situations, you can even force march up to eight steps on a main road. This option is important for the rearrangement of troops and especially to surprise the enemy.
Unfortunately, supply trains can not march that fast. They can move each turn only by two fields, and thus hamper their general in motion. At the end of the movement, the supply train must be a maximum of six cities far away from the general, otherwise his soldiers begin to starve. Moreover, he is losing units every round – men are dying of hunger.
If there are two rival generals in neighboring cities at the end of you move, everything points to a battle. First, two enemies will reveal power of their generals – a number of soldiers that he currently has. Now the attention turns to tactical cards and their symbols. Each of the generals can only play cards that color, in which square is his general standing. Each square of the map is marked with clubs, diamonds, hearts or spades. This rule has a large influence on the outcome and must be borne in mind.
Clash itself consist only from pulling for leadership. Player, who the lower sum of strength, must play as many cards until he beats his opponent. The enemy then has a chance to respond in a same way. The battle lasts until one player surrenderes or runs out cards. The loser will lose as many soldiers as is the last difference in strength. Winner can also move the losing general back – this simulates the defeated troops retreat.
Every third turn is followed by the winter phase. At that moment, players can reinforce their troops, arrive home with the generals, who are currently outside the map in foreign countries (e.g. Italy) and especially recruit reinforcements. For each 4 points from the played tactical card, he can enrich his general by one.
During the game you can also exchange units between the generals, if they are in a city at the same time. You conquer cities and get victory points after you leave the town with your general – it is called retrospective conquer and is valid to all cities, which general has passed through. They must not be protected by a nearby general.
And that's basically it.. Of course we missed a lot of small details, that push the game further, but here we would only confuse you. Very important information for the whole Maria is, that each of your opponents has its own special victory conditions, that involve some force behind the enemy borders (ie, empty supply of victory points). If everyone fails to gains such advantage before the twelfth round, the game ends and the winner is determined by total points from four winter stages – awarded for the points not yet distributed. The player face a difficult choice for the whole match, should they go after victory with force or save victory points and try for the political victory.
Maria is a truly excellent war game, that is surprisingly fun even for players, who do not like these kind of historical games. It is unusually simple and above all completely intuitive. Yet it is a war game and its lenght is corresponding. With the advanced rules, you can get to time between three and five hours.
One of main charms of this game lies in the secret army, which is revealed only before a battle. Until then, you can only estimate the number on a scale from one to eight. And it is very important, if can you guess your chances in battle. On the other hand, it can be difficult to know what cards the opponent at hand. The hidden information is important in this game, as in a real battle.
But as in reality, you can choose the battlefield, that will suit you. Battles can occure, when each of the generals stands on a different square and therefore will play cards of a different suit than his opponent. Values are equivalent, of course.
Maria is designed for two to three players. With two it is not nearly as fun as with the full number. But even in two, the war will be fun. Only the third player adds the juice to the duel, because the game includes the aforementioned non-traditional schizophrenical playing side. One player helps both other players with part of his troops.
Since both maps are connected by only two paths that both lead in the bottom of the board, it is not easy to cross back and forth. In addition, some nations cannot cross this line and must remain in their part of the map.
In addition to battles, we also like the movement and occupation of cities. This will happen only if the city is undefended. Otherwise, you must first fight off the opponent. Also the supply train must be always kept in sight.
The map is really precise and network of roads and towns are really dense. So you have to constantly maneuver your general and it costs you a lot of movement points, before you get somewhere. The length of each route describes the terrain and simulates well the movement speed of an army. Moreover, it is perfectly clear and has its own coordinates.
Elegant solutions is usage of cards for most major decisions – you use them for battle, recruiting soldiers and above all for an excellent politics decisions. It is this detail (along with the decisions and movements of players), that ensures each match will differ from the previous one.
Despite its simplicity, the game provides a truly comprehensive experience. You are constantly forced to interact with rivals and yet you really feel that you have complete control over everything. Except of course a random card draws. To some this may seem as too big random element, on the contrary we feel that it perfectly complements the game to a balanced whole.
And when we are talking about balance – the problem is playing for Austria. It is much harder as the other two sides and requires a specific approach. Players will not fight for the role of Maria-Theresa and instead prefer the other sides. That is, why we recommend raffle for player sides. In the role of Austria, it is really important to carefully manage the resources and the figures of hussars, who interrupt the enemy supply.
Board game Maria has managed to combine seemingly incompatible – comprehensive war game and relatively simple rules. This and some very original ideas lead to one conclusion: Maria is a great game for all fans of wargames and certainly deserves attention from everyone, who is in some way interested in history.
Informace o hře ze serveru BoardGameGeek (odkazy směřují tam)
Autor
Richard Sivél
Ilustrace
Hans Baltzer, Richard Shako, Richard Stubenvoll, Andreas Töpfer
Vydavatel
Histogame
Rok vydání
2009
Počet hráčů
2 - 3
Herní doba
210
Minimální věk
14 and up
Jazyková závislost
Some necessary text - easily memorized or small crib sheet
(31 voters)
Kategorie
Age of Reason, Bluffing, Negotiation, Political, Wargame
Mechanismy
Hand Management, Point to Point Movement, Secret Unit Deployment, Simulation
Rozšíření
Maria: Silesia Gambit
Rodina
Country: Austria, History: Age of Kings, History: War of Austrian Succession
Více o hře
.
Plusy | Pros
+ excellent game for three players
+ simple rules (for a wargame)
+ chance bound with control
+ dense map with terrain and coordinates
+ historically accurate
+ schizophrenic role of one player
+ hidden soldier counts
+ politics
+ different goals for each player
Mínusy | Cons
- game lenght (for less experienced)
- two player game is not that great
Vaše reakce na článek / Your reaction
Mohlo by vás zajímat / Interesting