It was night. Around the corner there someone suddenly screamed. Human voice, which sounded ominous and inhuman. Nathan did not wait, and pressed himself on the nearest door. He barely covered his body in shadows, when a woman emerged from behind a corner. There was blood dripping from her mouth, meaning she has just eaten.
Vampire was in extasy and her hunger was not yet satisfied. She was looking for other prey, but quiet and empty town did not provide many. Most people moved out, when the news about werewolves and vampires emerged. Only those, who had nowhere to go, remained. And some crazy believers, which hoped, that they can live together with these creatures and communicate with them.
Nathan was not such a fool. He had his suitcases packed immediately after the first news broadcast, where few werewolves attacked the news van, tore reporters to pieces and car to shreds. But then a vampire called Sally came to his house. She bewitched him, but did not drink from him. Not yet. A few minutes ago, he managed to escape. He hoped, that before she notices his disappearance, he will manage to run behind the city borders. But soon he realized, that there is no escape in this madness. Not quickly as he needed to. Finally Nathan received as a liberation in his hideout at the door, when Sallys hungry vampire teeth clenched his throat.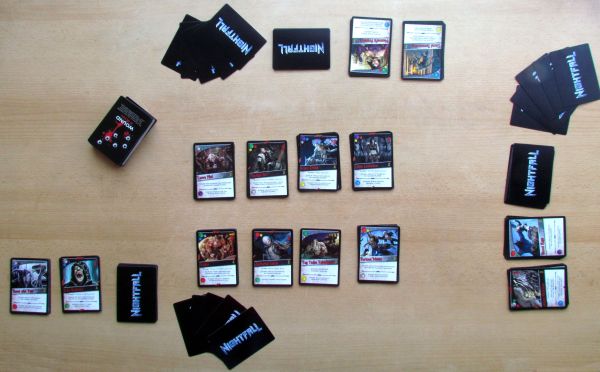 When deckbuilding climbed to dizzying heights of the players interests, there were two things clear. Will we see a lot more of these games and there will definitely be two themes among them: fantasy and vampires. Coincidence then stood behind it, that both these games were created under the auspices of the same publisher – Alderac Entertainment Group (AEG). Fantasy adventure game is Thunderstone, which we might talk another day about, but today we will focus on the jagged danger, that bears the name Nightfall.
Beneath an inconspicuous name, there hides a ruthless vampire fights for territory and prey. Its author is a game designer, David Gregg and cards illustrations came from Conceptopolis, Andrew Hepworth, Aurelien Hubert, Florian Stitz and Alberto Tavira. Nightfall was published in 2010 and has since then three new expansions. And now it's up to us to judge, whether the game deserves it.
The whole game is hidden in an elegant and simple box with vampires on the cover illustration. The surface of the packaging is opaque. Inside there sits a pile of cards wrapped in several plastic containers. The box itself is lined with soft black squares, that will make sense to you, as soon as you sort the cards.
Firstly you split them into four basic types – draft cards, start card characters (tinged with yellow names), wound cards and the rest is action cards, which are essential for the whole game. But while you sort them out by card names (each deck has seven cards), you will need to recognize them. That is why each type has its own card working as a book-mark. Moreover, thanks to foam squares, you can categorize them into several groups, so that the cards always very easy to find. Elegant, simple, perfect.
Initial impression from Nightfall unpacking are very positive. In addition to cards in the package, you will find only black sixteen-sided booklet with english instructions. And with it, you will quite quickly learn the game, because it is built on basic principles, that we already know from the original Dominion.
Players then always hold five cards during they turn, which can they play or put off for buying a new card. Once they drawing pile gets empty, they shuffle their used cards pile and create a new drawing deck for the further course of the game. But beyond these classic rules, Nightfall covers several great ideas, that make it really interesting and unique game.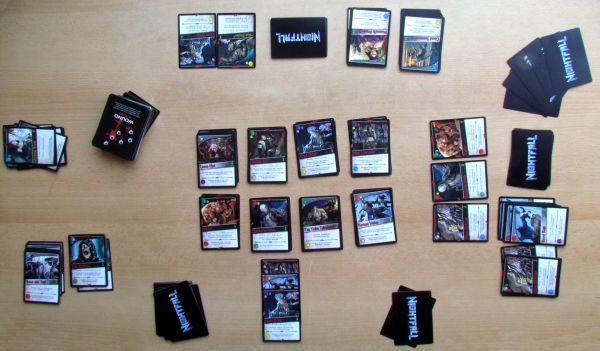 All the news already start, when you prepare the game itself. You only need a pile of wound cards and pack of card with a word draft across them. In this draft package, there is each card from the whole Nightfall in one copy. Each player gets randomly four of them. According to his selection he retains one of them and sends three more to player to the left. You then choose second card of the three pieces, that came from your neighbor to the right. Now you replace these two chosen cards with the corresponding real piles, that will form your own private archives. From here, only you can buy cards.
At the beginning, each player gets a same starting deck , which we have already discussed the classification. They have names written in yellow letters, and work only once, once you use, the end of the game lose them. You have twelve of them, two copies of each of the six cards. You must therefore use them with caution, because some of them will get handy in later stages.
You have to also create the commons – at center of a table, you put eight random piles of cards. From here, players can buy without restrictions, they must only spend influence, a vampire local currency. You always have only two of these points for each turn, and you can extend them with throwing away cards. Then you will prepare a deck with wounds. There will be ten times the players number available in the game and their point is to determine, when the game ends.
Before we proceed to the gameplay itself, we must look closely at the cards. You have two types of them – characters and events. While the characters you play in front of you, actions are one time and are used immediately. You will know them apart easily – characters have on each side red slashes – lives. You will rotate the card as it gets wounded and has fewer and fewer lives left. Line with the character name contains also its price and in the card's upper right corner, there is its attacking force. In addition to abilities text at the bottom, you will find only one specialty – three colored moons in the upper left corner. They have great importance in the game as we will soon mention.
A players turn has a very unusual sequence and is the true reason, why Nightfall plays differently from other deckbuilding games. Each round starts with an attack with all your available characters. As soon as all damage is dealt to opponents, the characters are discarded on the discard pile! This will keep the character flow steady.
The second phase is playing cards. Nightfall uses unique system called a chaining cards. Playing itself does not cost anything and you can play as many as you like, but they must follow each other by color to form a chain. Each card has a large color moon, which determines its color and two little ones, that specify, what color cards can be connected to it. Based on these colors, you create a chain of several cards. Once finished, your opponents can add their cards to it, following this basic color chaining rules.
The cards are evaluated from the end, which means, that rivals can effectively defend your attack and completely ruin your plans. You expose these plans and opponents can immediately react, if they have cards for it. Some cards have effects, that are evaluated directly for their participation in the chain. Other (mostly characters) can be simply played in front of you to prepare them for defense and attack on opponents during the next round.
Now (after chain evaluation) you can finally buy some new cards, that you put on your discard pile and they will not be available to you, until the next shuffling. The currency is the influence here, and because you have only two points, you can add one for each card that you throw from your hand on the discard pile. You can buy as many cards as you want, until you have influence. It is end of your turn now. You draw cards until you have five in your hand.
It is clear, that the basic principle of the game is attack and defense. If the player hasno character in front of him, which would cover attack, then they get hit directly (as for example in Rune Age). How? Simply – they draw a card from the wound deck for every blow, they received. These wounds will occupy space in their deck, hands, and are especially troublesome at the end of the game. By their number the winner and loser is determined. When the wound deck runs out, then the player, who suffered least injuries, has won.
Of course, the killed characters are going (with the exception of the starting yellow) on the discard pile and you can use them again, when you draw them again. They are therefore not killed in the true sense, rather then just reincarnated.
Nightfall offers a truly great and constantly-changing experience. Most important in the entire game are interactions. At the beginning of your turn, it is clearly stated, that players must attack with all his characters. This ensures, that fights will always happen and players must think, above all, about surviving their rivals attacks. Successfull blow of an injury to opponent is only a sweet bonus to effective defense.
Characters in front of players constantly rotate, as they are discarded immediately after the attack. Most of characters can be used only once, therefore you must always have good cards in hand. There is much greater emphasis on deckbuilding itself, because if you get useless cards in your hand (for example) in two consecutive turns, you have a big problem.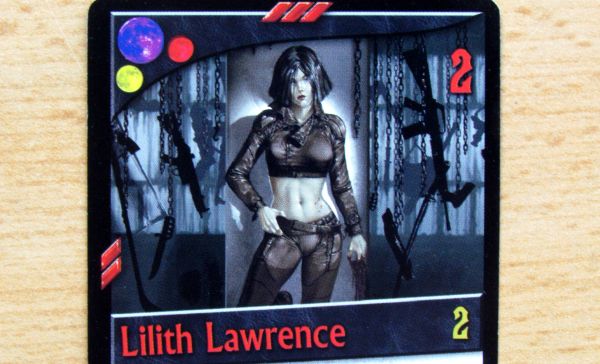 Spinning the deck is possible by surrendering cards while purchasing. Player has everything under his control, whether he keeps card for the next round or drops the whole hand and draws a new one. In addition, as a bonus gets, he then gets opportunity to purchase cards, that are not overpriced and have values ranging usually from two to five.
But chaining of cards still remains the most interesting element of the game. It offers a pile of strategic options. Players have a lot to think about, when they are choosing, which card to play. They often give opponents the opportunity to play a good card. It is important to have an overview of the colors, that opponents have in their private archives, because they will likely use them to establish chain connection. Action cards are exciting and some are downright harsh, such as Rend and Tear and his two injuries directly to player. If you do not have a character, who can parry this injury (like Bad Smoke), then you are screwed.
Altogether this means, that you will have to get used to playing Nightfall a little while. In first matches, you have problems with a succession of phases and you constantly think "the dominion way". But once you get used to the vampire tactics, you will enjoy it really really much.
Nightfall contains also many little twitches, that can be used and which we have not mentioned. For example different wound types (only for expansions) or the kickers. These have different color demands, than the card itself and when you meet both requirements, you get also more powerful effects. You will find many keywords, every character has its race and everything is set for grand vampire saga game.
Using draft for determining private archives might seem unfair. Some players might have their choice slightly stronger than others, but that is just the idea of private archives. There are many different tactics, how to grasp the game and you can defend against most of the attacks with every card combination, when played well. Since you got sinked on the level, that you know each card, then you will not complain about injustice. On the contrary – you will find draft an excellent way for making the game interesting and variable.
Game time is perfectly tuned thanks to ten times the number of players. With this, game remains directly proportional to the present number players, although turns prolong it a little. But since your can play cards during opponent chains, you have to keep watching the game and nobody has time to think, whether they are bored.
Entertainment is also not dependent on the number of players, because the game can be harmful in two and four as well. In more players you will have an interesting opportunity to divide your attacks between rivals. But that does not mean, that two player game should be less fun. We enjoyed it very much.
Nightfall is an excellent deckbuilding game, which is not suitable for family play, thanks to its theme and specialization in player fighting. But its target audience, ie all older players with a taste for attacking opponents, will be thrilled and the game will provide a quick and exciting entertainment for them. In the game, you once again can not rely on your luck and you must carefully plan every purchase and chain. Extensions are therefore in place and we are excited to try some of them. But be sure, that even in that time between, Nightfall will not find its way from our desk.
Informace o hře ze serveru BoardGameGeek (odkazy směřují tam)
Autor
David Gregg
Ilustrace
Conceptopolis, Thomas Deeny, Andrew Hepworth, Daniel Vendrell Oduber, Florian Stitz
Vydavatel
Alderac Entertainment Group, Galmadrin, IELLO, Pegasus Spiele
Rok vydání
2011
Počet hráčů
2 - 5
Herní doba
45
Minimální věk
12 and up
Jazyková závislost
Extensive use of text - massive conversion needed to be playable
(29 voters)
Kategorie
Card Game, Fantasy, Fighting, Horror
Mechanismy
Card Drafting, Deck, Bag, and Pool Building, Hand Management, Pattern Building, Take That, Variable Player Powers
Rozšíření
Nightfall: "Ghost One" Promo, Nightfall: "Shadow Seven" Promo, Nightfall: Ahmad Hassan Promo, Nightfall: Ausnahmezustand, Nightfall: Bloated Corpse Promo, Nightfall: Blood Country, Nightfall: Crimson Siege, Nightfall: Dark Rages, Nightfall: Desperate Measures Promo, Nightfall: Destiny Collins Promo, Nightfall: Flayed Ghoul Promo, Nightfall: Lisaveta Florescu Promo, Nightfall: Pale Fury Promo, Nightfall: Silas Bragg Promo, Nightfall: Zombie Horde Promo, Nightfall: Zombify Promo
Rodina
Creatures: Vampires, Creatures: Werewolves, Game: Nightfall
Alternativní názvy
Chainmaster, The World Arena, ナイトフォール, 吸血鬼の夜
Více o hře
.
Plusy | Pros
+ vampire theme
+ great chain mechanic for playing cards
+ lots of tactical options
+ private archives allow each match to be unique
+ kickers provide second power for each card
+ optional game time
+ extendability – prepared for expansions
+ constant, not avoidable conflict
+ characters go on discard pile after attack
+ great box
Mínusy | Cons
- thanks to the topic, you will not play it with younger children
Vaše reakce na článek / Your reaction
Mohlo by vás zajímat / Interesting