We all know, that money is hidden behind the rainbow. And we are not alone. Even the guys, who invented slots game Rainbow Riches knew that. Leprechauns are wealthy creatures, so why should they not spread some gold coins among the public? And it does not have to be Mad Sweeney and his coin reaching tricks. You can turn to any leprechaun out there. Or.. you can play Rainbow Riches.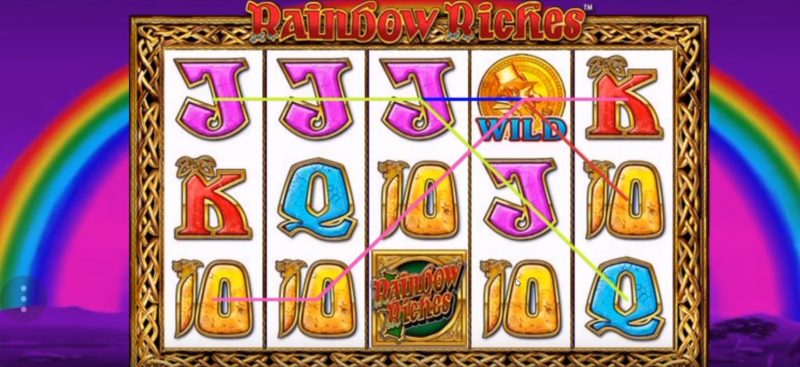 Anyone can play for money or gamble just for fun. Its quite addictive, because on top of the basic slot mechanic, where images scroll from top downwards, there are several bonus rounds, that can give you additional payouts.
At the beginning, you start simply by creating pay lines of your own. They will be your road to victory, whenever they are crossed by the right combination. You simply need to collect at least three same symbols to win in that round. You can spin by yourself or put the slot machine on automatic mode. You are always in control or your bets. Whenever the line is created, you are awarded with small victory.
This game is all about luck. Its not about pulling the lever (= pushing button) at the right time. Its just about how software mixes your slots to create winning combinations. And you are its servant. But still, you are having fun in the right gambling way. Just watch out as time passes by and your ration of loss victory can quickly change.
The whole Rainbow Riches game is now available on many new websites, that offer you the whole treat. Pots of gold are waiting to be picked up. Its simple as that. Or is it? When you play for fun, its ok. But beware, as there are many dangers hiding under the rainbow. And you should be aware of them.
Nevertheless, Rainbow Riches is quite a fun game, that rides on the everlasting popularity of slots. And the one-handed-bandits are now turned into AI machines, that still have ho feelings, but you cannot kick them in return, when they do not provide you with the thing you wanted. Leprechauns are great theme and the rainbow guarantees, that its all colorful. Place new batteries in your mouse, because this clicking is going to get nasty. Rainbow Riches is one of the best slot games out there, so if you ever wanted to try one out, this might be your shot.
Vaše reakce na článek / Your reaction
Mohlo by vás zajímat / Interesting