When this little witch first appeared at my door, I thought that I will easily drive her out. But no matter how much I shouted at her, sending shadows and other horrors, she returned every evening again. She just stood outside the entrance to my cave. Cat in her arms, red hair and a smile from ear to ear. She never said nothing, just stood there.
After two months, I succumbed and invited her in. She sat in a stone chair and just looked at me with her guileless smile. I still have not heard her speak a single word, but she has real talent for mixing potions. I wish someone would gave me such a chance, when I was young..
Ever wanted to be a student of the magical potion arts? Clumsy witch Bella is looking for an assistant. At least the ad, we have seen, sais so. Where does Bella live? Inside the box titled Schusselhexe, or boxes with English translation Clumsy Witch. The game comes to us from workshop of company HABA, its authors are Markus Nikisch, Dr. Sabine Kubesch and Laura Walk. Portrait of a little witch and the environment around was completed by Marc Robitzky. This game belongs to series of FEX games, suitable for children learning.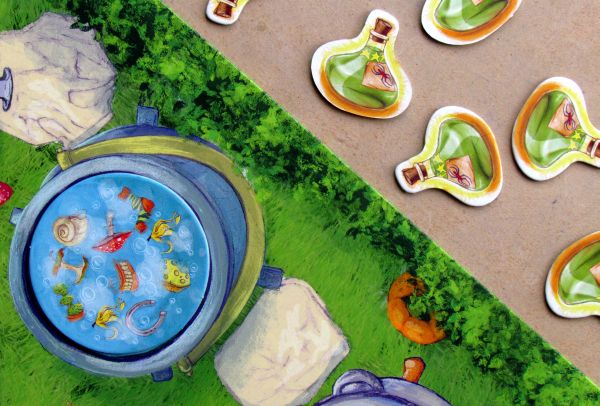 In the yellow box (colors of publishing company), you find anything, that such a witch might need. Indeed, one of these things is pot, you see on the cover image of this smaller packaging. The most important for every potion mixing is place, where you can construct your bubbling concoction.
Game board welcomes you on a small meadow, where a large stone in the center is surrounded by a dozen bubbling cauldrons, which apparently belongs to no one. But this is not true, because this is place for a final exam of you clumsy witches. All candidates for the position must each find an ingredient, that is lacking to complete a potion.
But to do such a determination, we need more, than just a game plan. In the box, you'll find not only a wooden figure of a witch, but also a magician Fex, which you will need later, when you want your search of potions to become more difficult.
Perhaps you thought, that we probably have missed the actual potions in our storytelling. Pots on the meadow look suspiciously empty. Therefore, in a sheet of cardboard tiles waiting to get punched out, you find ten round tokens with pictures of ingredients, among which is the snail-shell, core or earthworm. And then there are cauldrons and on the surface of each float ten ingredients. One is twice there and one is missing. In addition, sheet contains thirteen more tokens with potions, that you can win for each correct guess.
To play, you'll also need one of the four colored dice. Their six sides display various things from arrows to crescent. Only a classic purple cube remains with us for now, as this is the only one, you'll need for basic game. It is completed also with a cup, which serves not only to mix dice, but also to conceal your result.
At the beginning of the fight, players create supply of potions, that can be obtained, next to the board. Individual positions of pots are then randomly placed on a round track on the board. Between any two of them, you will stand witch pawn. She will move in a clockwise direction, as she is trying to take care for all the bubbling cauldrons simultaneously.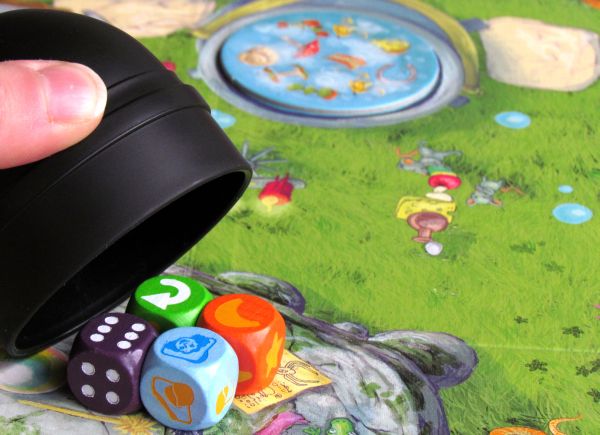 Player whose turn it is, rolls the dice first. Others then must speak up spell, that functions as a clock for remembering numbers on the dice. With the help of the cup, your adversaries cover the cup, when time (rhyme) runs out. Active sorcerer must now use only his imagination to determine, in front of which cauldron will the witch stop with a given number of steps. He must also find out, which ingredient is missing on the surface of this pot and report it to his opponents. They reveal hidden number on the dice and check that answer.
In the event, that player is correct and he not only stopped at the right pot, but also found the missing ingredient, he receives a reward in the form of one vial with potion. Now players can really move witches pawn in front of this cauldron and another player can play his turn. Game ends, when players have completed four turns. Whoever has collected the most potions is the winner.
Clumsy Witch played according to the basic rules looks like a very simple game. But who was with us a few weeks ago on the audition for a secret agent in In Geheimer Mission (review) knows well, that when game features FEX, its basic version only prepares you for a real challenge.
With this variable difficulty of the game, it is clear, that it is very well adjustable for different abilities of children, that are brought together at the table. In the basic version, you can play it with a five year old little ones, who do not stretch only their basic memory skills, but rather their imagination. The need to move the witch piece for the number of steps forward only in your head represents challenge for smaller children and it does not train only simple arithmetic. Searching for a missing object then refines observation and perception of details.
But if you sit down to play with someone more experienced, you will be looking for a further challenge. Even then, you will not need second figure of Fex the wizard, but trio of dice with new rules instead. Green dice determines direction of motion, while blue tells the players, if they should look in the pot in front or behind them. All dice are hidden under the cup, when the elapsed time for the rhyme runs out and you have to remember them well.
Only with the last orange cube, wizard Fex comes into play. At a glance, see star symbol (witches) and a moon symbol (Fex). The outcome of the dice roll determines, which piece should you move forwards to search kettle with. In addition, mage behaves in exactly opposite, what dice tell him to do and what you will do, when you moved Clumsy Witch.
And here with optional rules begins challenge even for much older children and sometimes it can really torment also an adult. It is not easy in any respect. While doing this, game remains fast. You manage to play the whole game in fifteen minutes, no matter how difficult the rules are. You can even make this into a reaction game, when you will all be looking for the correct answer together, thus putting more pressure on your decisions.
Difficulty of movement and demands on the imagination fundamentally depends on the value you roll on a purple dice. It is also the only erratic element, which we found on the game. As a result, a player can get to victory better with a bit of luck and simpler tasks. With more and more rules added, that complaint is losing importance, because the distance is no longer the main thing, you have to watch.
Processing of the game is very nice. Both figures are only cardboard, but detailed illustration of the board makes up for everything. More complex production would definitely sign on price, which thus remains really acceptable and game still looks and sounds attractive.
Clumsy Witch is a great game for young children, improves their imagination, concentration and observance of the rules. Plenty of different game variants ensure a long shelf-life of this game. Although Clumsy Witch (Schusselhexe) is a children game, babies will not grow out of it quickly, but as they are improving, you can add more demanding rules in. This game will last and stay entertaining even after many matches and you will like to play it as well.
Informace o hře ze serveru BoardGameGeek (odkazy směřují tam)
Autor
Sabine Kubesch, Markus Nikisch, Laura Walk
Ilustrace
Marc Robitzky
Vydavatel
HABA
Rok vydání
2011
Počet hráčů
2 - 4
Herní doba
15
Minimální věk
5 and up
Jazyková závislost
No necessary in-game text
(1 voters)
Kategorie
Children's Game, Deduction, Dice, Fantasy, Memory, Mythology
Mechanismy
Dice Rolling, Memory
Rodina
Series: Fex (HABA), Theme: Witches
Alternativní názvy
La bruja despistada, Schusselhexe, Slodderheks, La sorcière étourdie, La strega sbadata
Více o hře
.
Plusy | Pros
+ simple memory mechanic
+ adding dice raises difficulty
+ game teaches imagination and reflexes
+ just a hinch of a memory element
+ nice illustrations
Mínusy | Cons
- purple dice of movement influences difficulty and luck can affect your turn
Vaše reakce na článek / Your reaction
Mohlo by vás zajímat / Interesting