A seemingly harmless beam of red light has fallen down from the sky. Bunker immediately knew, that something more hides behind it. His detectors captured something strange in the volume of incoming data, which would not be in the common broadcast from space. It took a while before he filtered out the noise in signal and put a hidden message onto his speakers and finally play it to his friends.
This is the first time league of Sentinels had first heard about plans of crazy professor Baron Blade. Today it's has been three months since the moon trembled for the first time on its orbit. At that time Earth was saved only by luck – Barons equipment was damaged by power outage. But to find out the bad guy position was not easy, all traces disappered into void and ended in the sentinels despair. Finally Visionary was able to capture his thoughts and found him in a remote building in southern France, near Montpellier.
Now circle around the Baron Blade tightens. Sentinel are about to join forces. Good fighters, protectors of the world with special abilities, are the only ones, that can prevent a mad scientist from dragging Moon from his orbit to Earth and destroy the entire planet. Legacy, Tempest and Ra, all of them are ready for the final duel. The world has just taken a deep breath before the last day of its existence..
Sentinels Of The Multiverse is a group of heroic warriors, who protect the world from all dangers. They are just like Avengers only in an alternate reality. But we will not argue today about the probability of their existence. We will prefer to look at a great card game, that is bound with their names.
Sentinels Of The Multiverse is a card game, whose release is under the direction of company Greater Than Games. Authors names are Christopher Badell and Adam Rebottaro. The latter also provided his thematic illustrations for this great game. Slightly exaggerated cartoon graphics may not suit everyone, but it will be great for every comic fan. On top o fit, the game contains lots of interesting drawings.
The game itself is hidden in a relatively small box. You will be the more surprised with its weight. The cover features initial figures of heroes and you will most certainly notice, that the lid does not overlap the whole way down the package. Fortunately, the overlap is large enough to prevent box from opening on its own. The box measures approximately 20×20 centimeters and is full of cards.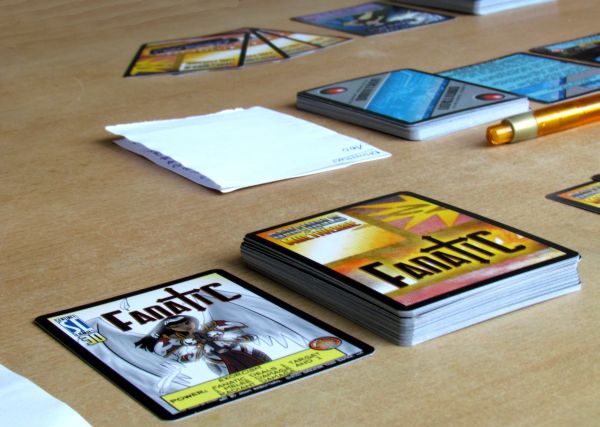 You will not detect any other objects than cards (except beautifully illustrated rules), so we move directly to their description. According to the back of the card, you will separate cards into an impressive eighteen piles. Ten of them are individual heroes decks, next four are environments, where the battle can take place, and the last four decks are villains.
Each character (positive or not) has a double-sided card, that will stay on the table as his representation in a match. In addition to it, the package always contains lots of action cards, whether one-time or not. At the top of the card, you can see an image, that will establish the proper atmosphere according to card options. Above it, you can find only card name and number of livees in the upper right corner in the case of characters or a supporting units.
Keywords below the picture mark types of cards for interaction. Below them, there is a description of card skills. Texts are written in capitals and they are sometimes difficult to read. In the first few matches, you will spend a lot of time with reading the text and getting to know the cards, but it is important to be acquainted with your cards. Without them, you have no chance against the poweful villain. In a bubble below, you will find the additional flavor text, which enhances the atmosphere.
This concludes our tour. But the characters themselves are really unique. Each of them has their own unique strengths and weaknesses. You must keep that in mind during the entire game. Learning guide will take you through the Sentinels of the Multiverse with its simple and illustrated rules. The sections with yellow background are dedicated to rules themselves, but the brochure also contains background story of each of the available characters. That adds an incredible depth of experience since the very first moves.
The game itself has incredibly simple rules. At the beginning of the game, you choose one random bad guy, who will be trying to defeat you in one of four available environments. You prepare these decks of cards on the table. In the case of the villain characters, you might expect some extra preparation, which is described in detail on his two-sided card.
Now we need to select heroes, who will stand to this threat. The game is designed for two to five players, but unfortunately its balance is not exactly ideal. In two of players, the authors themselves recommend, that each player takes control over two heroes. You choose a hero (heroes) and take his (their) deck. You lay the double-sided hero card in front of you with side, which contains number of lives. You shuffle the rest of deck and make your drawing deck. You take top four cards, which make your starting hand.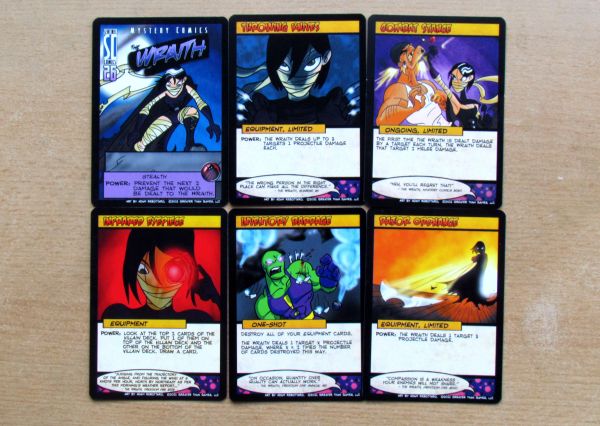 Unfortunately, the game contains no way to track your lives progress in the package, so you have to do it with pencil and paper for each character in play. In addition to the heroes and enemy, there will be also some weaker minions in play, whose health you have to watch as well. Leave some empty place on that paper for them. Later, you can certainly print some special counter made by fans. But it does not matter, if you have one paper for all characters or each has his separate strip, the battle for the future of our planet can begin.
Each player may play one card from his hand in turn and also use one of his hero abilities (or played equipment). Then he draws one new card from his drawing deck. His turn ends then. But the round itself is framed also with enemy and environment turns. Each round (including the first) starts with bad guys acting first, then it is time for actions of all the heroes and in the end, it is time for environment action. Its event will usually not amuse you very much and some of these will deal damage to all characters involved in the fight (even a ceiling might collapse on your head).
There are two types of cards in the game – one-time and permanent. When you play instant action, you take advantage of its abilities and then you must throw it away on the discard pile. You can also play permanent cards on the table in front of you and you can use its capabilities many times in future turns. Cards can provide you with some power usable during your turn. But there are also effects, which act at the beginning and end of your turn. These events (start and end) are not only within heroes decks, but also in enemy and environment decks. Before player turn, you must first evaluate the effects of starting events and when his turn is over, there is still room for the ending round events.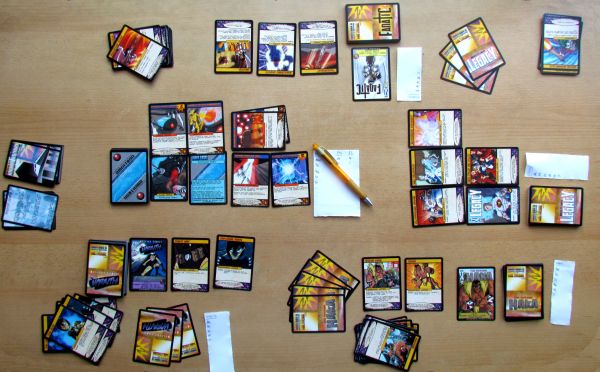 Most of the skills are of course is aimed at dealing damage. But the means can be different, as well as the types of attacks. Characters can be immune to some elements (fire, ice,..). That is, why you have to be careful with the way you carry your attacks. After each change, you need to constantly rewrite and modify the records of the lives of individual characters.
Game ends in two ways – either the players can together prevent the enemy from acomplishing his evil plans, or vice versa villain succeeds in achieving the world's end. Conditions for winning are different with each enemy, some even have two sides with different rules, switching according to the development of game. The end may always be one or the other.
It does not matter, whether you sacrifice some heroes lives in fight on your road to victory. It is important to defeat the enemy, then everyone wins, even the dead ones. In addition, if someone is removed from combat before the end, he may still help his friends in a limited way. According to description of designers, this change is to reflect increased efforts of heroes to avenge his fallen brother (or sister).
Sentinels of the Multiverse is a game of incredible experience. They provide a story, that sometimes could even appear on pages of a comic book. You can easily imagine your each move. Game makes an continuous attack on your imagination and the whole game is based on this idea.
But also the actual battle without talking and helping would still be cooperative and contains a great value. Players help each other simply by playing the card, that they think is best for the moment (with their limited choice of cards in hand). But they avoid being directed by one man, who tells them, what to do. This is common problem in games like Pandemic. Of course, players can still get advice, but only when they want. Otherwise, you have cards in your hand, which you do not have to show to anyone else.
But still atmosphere and its building is the most important (besides winning), what you should expect in this game. And if you do not give in, you probably will not enjoy the game as you could. We are not saying, that the experience will be bad, but your victory or defeat will not bring you much emotions. For example when we managed to bring down insidious Baron Blade for the first time, we had a real joy and were making high fives, as if we have really saved the world. It were the last few rounds, which made a difference and we reversed seemingly desperate situation into our victory. Just like in some movie.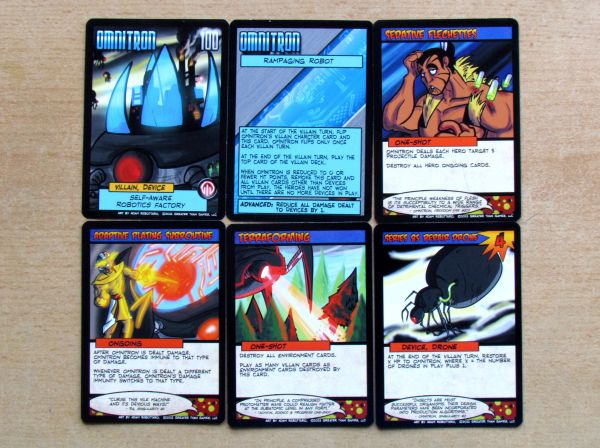 Sentinels Of The Multiverse offers incredible versatility. With the ability to play for ten different heroes, explore and discover their abilities and decks, you will not get bored. And we are not talking about four completely different enemies, with whom you can compete in four different environments. Authors has just now published an expansion titled Rook City, which brings two brand new heroes, enemies and the environment. In addition there sould be also several new mechanisms.
We mentioned a few words about tuning for different numbers of players at the beginning of this article. Here you can find probably the biggest weakness of Sentinels. Optimal experience is possible only when there are four heroes in the game. Three heroes raise difficulty really high and with five, the game starts to be pretty simple. Yes, you have the possibility to add new extended atributes of villains, that increase the difficulty. But in five, you should have no trouble even then. In two players game, at least one player will have to take two heroes under his wings, but with five players, the situation is unsolvable. Perhaps you could confront two bad guys at once.
Handling is excellent. The cards are well-arranged, illustrations are atmospheric and the back side allows you to easily split cards into packages. The impression is spoiled only with missing way to record the health of individual characters. But this addition would certainly disproportionately lifted the price.
Sentinels of the Multiverse offer a new level of cooperative fun. Every player and every hero is a vital part of the team, he fulfills his tasks and aims to achieve a common goal – to defeat the villain, whose plans threaten the entire planet. The bigger pity is the weakness in tuning for different numbers of players. Playing with optimal hero numbers offers great atmosphere and the game itself is a must for all fans of comics and their heroes. But Sentinels will not disappoint even fans of any games, where cooperation plays a major role.
[bgg id=102652]
Plusy | Pros
+ new cooperative system
+ comics theme and illustration
+ 10 heroes, 4 villains, 4 environments
+ variability
+ advanced rules for higher difficulty
+ small box
+ really easy rules
+ each character is unique and has personality
Mínusy | Cons
- balanced only for four heroes
- only half entertaining without imagination
Vaše reakce na článek / Your reaction
Mohlo by vás zajímat / Interesting