Did you ever imagine a world, where dinosaurs coexist with robots, ninjas and wizards? It is a dream of every little boy. Children have enormous imagination, but what about adults? Could we occasionally also daydream and enjoy the craziness of combinations and situations, that can arise in such a world? Of course we can! Smash Up is here just for this purpose!
A new card game from Alderac Entertainment Group (AEG) provides exactly this and much more. The box contains total of 8 races, which can be taken under your command. But we'll get to in a minute, now we must go back to the general description. Game was created by Paul Peterson, illustrated by familiar Conceptopolis, but Dave Allsop, Bruno Balixa, Carmen Cianelli, Crute, Saliym McCullin, Pierre Ravaneau, Isuardi Therianto and Francisco Rico Torres.
And because AEG loves deckbuilding and games based on it, Smash Up is another one, that follows this theme. But beward, this time it is not about deckbuilding in the true sense of the word, like Nightfall (review) and Thunderstone (review). Even the game calls itself a shufflebuilding, not deckbuilding. New concept or just a new word? What is the significance? This word means simply, that before each game, you shuffle two different faction decks togeter and with their alliance play the game. Great, simple and amazingly fun.But again, we are getting ahead of ourselves.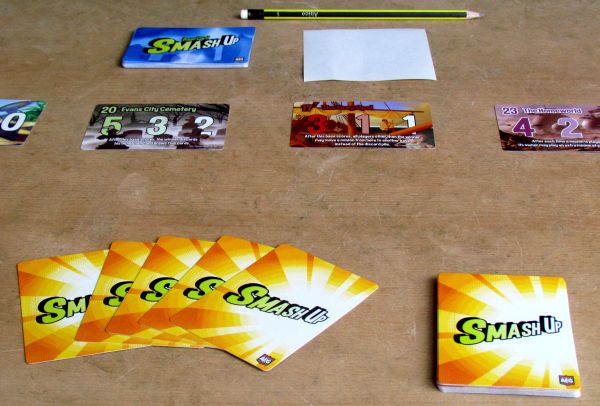 Box is quite small and you will find nothing but cards and rules inside. Its bottom is divided into compartments with plastic molding. After splitting packaged decks into eight piles of cards plus one with environment, you are left with half empty box. Why? The author left the space, where you can store also future expansions, which will make Smash Up to be even bigger fun, than it already is.
So now we focus a little more on the cards. We start by sorting them out into already mentioned eight races – robots, pirates, wizards, tricksters, dinosaurs, ninjas, aliens, and zombies. Each race has its own black and white icon, under which is denoted in their lower right corner of the card, to which group it belongs.
But you will know this without problems by illustrations, which are completely different for each race. All without distinction are not trying to be realistic and they are more playful instead. What more can be found on the card in addition to those icons? Card name and picture below is a certainty, but below lies another word – action or minion. In case, that its a minion, you can find also printed number indicating its strength in the upper left corner.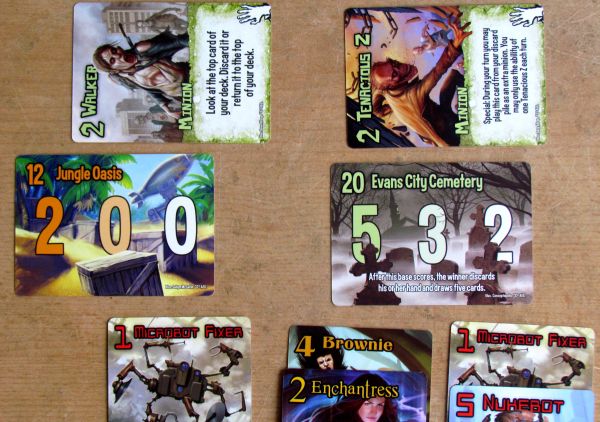 At the bottom of the card, there is of course text describing abilities, which are activated in most cases by playing card from your hand. The only exceptions are on-going effects, that have a longer duration and may thus influence the situation for a longer period of time or at a specified moment in the future.
And in addition to these 160 cards (20 of each faction) can be found also sixteen cards oriented horizontally in the box. These cards are called base cards, but we're going to call them usually simply locations.
They look quite different from other cards, because they are wearing three numbers in a row. The most important thing is a fourth smaller number in the upper left corner, which indicates a breaking point – moment, when the situation escalates in that place, there will be a decisive battle held there among all factions involved. The three big numbers are rewards for players for winning fight there. Below them is lyrically described some special ability of this location.
And that's it. Now players select two factions randomly or according to your own preferences, each containing twenty cards and shuffle them properly together. Thus you may play for example as undead aliens or pirate ninja. Combination is really outstanding, and their number is high. You can combine all races with each other. There is no limitation but your taste.
But we will assume, that you and other players have all picked their favorites and shuffled their created deck. You draw five cards out of it and put it in your hands. This is the people you command. If there is not any minion in your hand, you can show your cards, and draw new five and shuffle again rest of the package.
You reveal random locations one card for each player, and add one extra. In two player game will thus be three places to fight, and so on. In these positions your first conflicts between mutated races will be played. And that means now, because Smash Up is just ready to scramble!
Course of game round is quite simple and you will learn it in one quick minute. Players simply play cards from their hands. Their selection may be either action or minion. Or they may even play one copy of each and in any order! But that is the ceiling of what you can do in one turn.
While text on the action card is performed immediately and such card goes to your discard pile, for your minion, you must select location, where you send him. You can choose any of locations available in the middle of the table. You will create your own stack of successively overlapping cards there – ie your battle group. Players cards are easily recognized apart with their illustrations, icons and color, so there is no confusion even, when more enemies are involved. Races are recognizable at first glance.
Immediately after playing cards, you evaluate its text and do everything it allows you to do. This applies not only for action card, but for minions too. They often have really interesting special abilities, that can stir the situation on the table. However, this is possible with single-action cards too, because they have really strong powers. All of them are worth playing.
At the beginning and end of round some special events may also occur, if any of the played cards has them. They are also the only effect, which occasionally disturb otherwise smooth cards playing. Another situation occurs, when new minion card makes sum on current location larger or equal to breaking point of this place. At that moment the final battle happens = scoring.
The battle takes place by simple addition of strength of your units. The player, who has the strongest army, receives the highest number of points written on the card. The runner up reaches the middle number, and the third one will get only lowest value, giving him some crumbs.
After evaluating, you discared looted location aside and uncover new from a prepared deck instead. At the end of your each turn, you always draw two new cards from the deck. You then finally give chance to act to your opponents.
All rivals take turns playing cards and evaluating places up to the moment, when any of players reaches fifteen victory points. He immediately becomes winner of the game. In the event, that there would be a tie, game continues until the next evaluation decides a winner.
Smash Up is primarily a light entertainment filled with fights, assaults and exploiting capabilities of your own race. Playing cards itself would not be so much fun, if it were not for two basic things, which make Smash Up an amazing relaxation and quickie for everyone.
First up is possibility to mix up your own mutants from eight prepared races. Each combination is really unique, although it is a pity, that they do not actually affect each other so much. It seemed to us, that they could be a little more connected together across individual decks. But maybe we only failed to discover the right tactics for some combinations.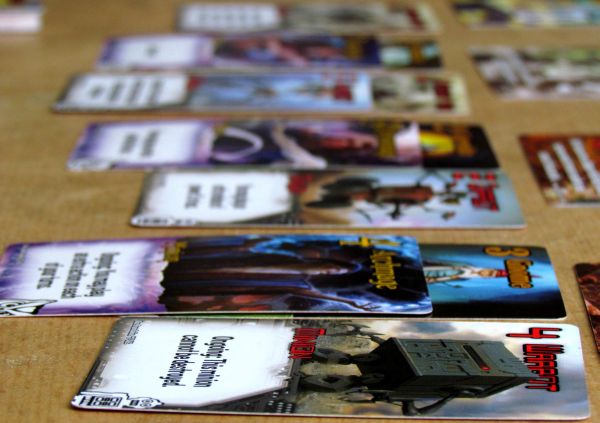 Second plus is abilities of the individual characters and action cards, which vary with each deck. Individual nations have their own specialization, for example undead focus on a drawing discarded cards back to your hand. You are therefore able to send your minions to a certain death, because you can bring them back. But it does not outweigh other races, which have all their skills.
Very important is simplicity of rules. You can play Smash Up calmly with everony, even children. This family position suits Smash Up the most. Players can with ease and without deeper thinking use offered actions, which give them their cards. You should not take the game too seriously. Counted with the fact, that the player play without much thinking. From a quick game time is apparent, that you will be able to play more than one game in a session. Smash Up is really excellent for all kids in english speaking countries.
The principle of attaching your minions to common cards in the middle and fight for them is nothing new. And feeling of something original is not the purpose of this game. It just pushes simplicity of the mechanism to perfection and allows you to benefit from it with a lot of interesting experiences.
At the same time, system ensures, that the game will differ with more opponents and a duel. That does not mean, that one of them is less fun, although more players are worth it in hiere. Quick turns keep impatient participants in the game at all times. In two players, the duel is a little more balanced and tactical, because you send more minions to individual locations. With more players growing chaos is guaranteed, but that does not hurt the game. But in case you have an allergy to unpredictable situations, you can have complaints here.
Processing is very distinctive and is suitable for the game. It will bring you a feeling, that you are really a part of that particular combination of races. Cards are colorful, clear and with readable text with special font for every nation. Moreover, the material is fine, although we will recommend wrapping them, because of the frequent handling and mixing. Its just a shame, that there is no way to track points (you can use dice as counters) and you have to constantly recalculates state of all locations in effort to get a graps, who leads where.
Smash Up is a game, that will not break the charts with best games. Its primary reason for being is light fun and undemanding entertainment with huge possibilities, you never dreamed of. Who would have ever thought, that he can lead robotic dinosaurs to fight space wizards? Balanced game and constantly new experiences. This is the battleflield, where Smash Up really excels.
Informace o hře ze serveru BoardGameGeek (odkazy směřují tam)
Autor
Paul Peterson
Ilustrace
Dave Allsop, Bruno Balixa, Conceptopolis, Francisco Rico Torres
Vydavatel
Alderac Entertainment Group, Arclight, Bard Centrum Gier, Edge Entertainment, Galápagos Jogos, HaKubia, Hobby World, IELLO, Kaissa Chess & Games, MYBG Co., Ltd., NeoTroy Games, Pegasus Spiele, REXhry, uplay.it edizioni
Rok vydání
2012
Počet hráčů
2 - 4
Herní doba
45
Minimální věk
12 and up
Jazyková závislost
Extensive use of text - massive conversion needed to be playable
(74 voters)
Kategorie
Card Game, Fantasy, Humor, Pirates, Science Fiction, Zombies
Mechanismy
Area Majority / Influence, Deck Construction, Hand Management, Take That, Variable Player Powers, Variable Setup
Rozšíření
Smash Up: All Stars, Smash Up: Penguins, Smash Up: Sheep, Smash Up: Smash Up Titans, Smash Up: The Big Geeky Box, Smash Up: The Bigger Geekier Box
Rodina
Game: Smash Up
Alternativní názvy
!התנגשות, Hustá mela, Замес, スマッシュアップ
Více o hře
.
Plusy | Pros
+ eight different factions with unique skills
+ simple dominance in locations
+ randomly chosen locations
+ interesting graphics
+ lots of room in the box for expansions
+ huge variability
+ perfect feeling of mixing races
+ dinosaurs with lasers!
Mínusy | Cons
- no way for watching points
- maybe too simple
- dominance over locations is nothing new
- quite a lot of counting
Vaše reakce na článek / Your reaction
Mohlo by vás zajímat / Interesting