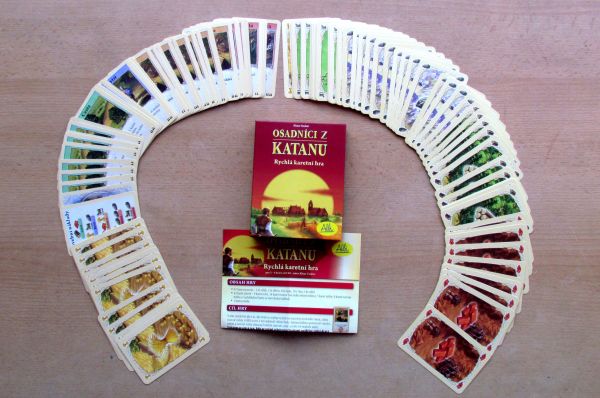 Settlers of Catan: The board game changed the history and future of board games. Klaus Teuber's name is forever connected with the resurgence of modern board games. The success of the game was followed by expansions, that make it possible for settlers to look at Atlantis or it crows of Merchant and Barbarians.
But every big name deserves (at least in its creator eyes) chance not only for extensions, but also for branches with different gameplay, preserving all its trademarks. And this is the case of settlers, who lived to see almost simultaneously their dice and card versions. Today we will together focus on the newer card version, which could fans of the original Catan hardly imagine.
The game is hidden in a small card box with separate lid. Inside you will find (in addition to folded rules – thin strip of high paper, color printed on both sides) only the main component – deck of cards. Unfortunately, the box itself is missing divider in the middle, so the cards are harder to put back. But it's nothing to wipe over.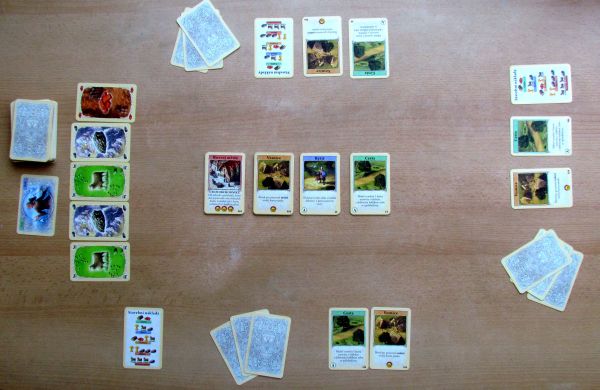 As soon as you flip through cards, you will see the old familiar names – village, town, knight, roads, but also classic sources – sheeps, grain, stone and bricks. Of course, also in this game, you will pay with these materials for every purchase and construction. It is important to note that many of the advanced cards (knight, village, road) are double-sided (sides A and B) and always have other effects on each side.
At the beginning of the game, each player gets one village and one road. These cards they put in front them as their starting wealth. In addition, they get also a help card, that clearly and concisely summarizes the necessary sources, for which players can buy new cards. Each player gets also a random starting hand of three cards.
Decks of roads, knights, villages and town buildings (improvements) are placed in the center of the table. Their numbers are final, for example you will certainly empty knights stack very quickly. Deck of mixed resources cards deals five of them on the table to create joint offer, which is called the marketplace.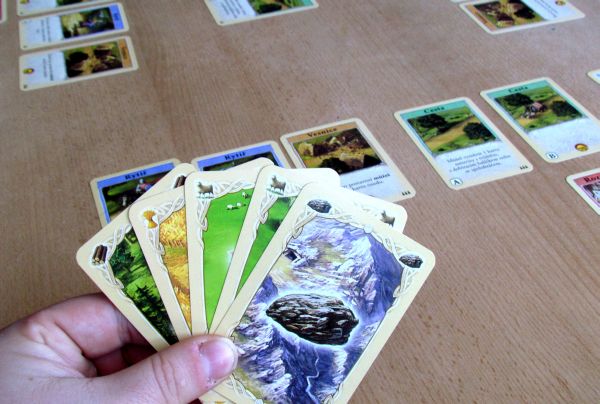 Players can trade their resources. According to the number of roads and knights, they can choose from several options, where to get the material. The simplest of them, which you have always at your disposal, is draw the top card from the deck. However, in this case, you never know, what you will get until you get it. And usually this kind of trade does not help you in a short run.
Much more important is the exchange with the marketplace. But for it to be possible, you need some roads on their A side up and on top of it, it is something for something. You have to give up one card from your hand and take one from the offer instead. It is also one of the few situations, when the marketplace offer renews. Players themselves have not a chance to force a change of the whole menu, the only other situation when it happens, is building a town.
Once you have sufficient number of resources in your hand, you can commence with building. In one movem you can build any number of different or same buildings until you have enough resources in hand. The transaction is simple – you pay and take the appropriate building or person card from common stock in the middle of the table and put it in front of you.
Now comes into play the first of the more complex principles, that seek to make cards a little more interesting. We talk about alternating sides for cards, knights and roads. You put first road its A side up and when you gain (build) another one, than you have to put it B side up. This way the cards alternate. While side A provides changing of one more resource each turn, side B gives you victory point. The same situation is with the Knights, who of course provide other benefits – possibility to draw one more card at the end of his turn or victory point.
At the end of each players turn, there is one and only chance to get some more materials – you can draw two cards from the deck, or even more, when you have some knights in your service. These gained materials are strictly randomly drawn cards and you can not be sure, that they will help you in any way.
Exception are city cards – when you bild town, you do not take it from a common stock, but you convert village by simply turning the card – you lose one victory point, but gain two. The city is also the first of mentioned cards, you receive more victory points – two. Of course, the most points will you get for the buildings, that the city can contain. These buildings give its owner also some special skills. For example, university enables swapping of materials when building, church protects the knights and citadel protects roads (both from your opponents).
Knights play a very important role in the whole game. The players will fight with each other with them, so they are meant for interaction. There is only a limited number of them, so if a player wants to recruit knights, but he is no longer in stock, he takes it from other player. This is a crucial tactical decision, because you not only profit from it, but also harm your opponents. On the other hand, you make opposite player angry and you will have to deal with his retaliation.
Clash ends, when one player has cards of ten victory points value in front of him. That player immediately becomes the winner and the best builder of Catan. At least in this game.
Settlers of Catan: Card Game is an attempt to provide a faithful experience as an alternative to the big board game Settlers of Catan, only in card shape. You will meet all known names from the original here, yet the game is faster and more accessible to all. But is it good? Unfortunately, not that good.
In the opening rounds, players are fighting heavily for materials and this competition depends only on luck, who got the better starting hand or who draws better card from the deck. Once someone is able to build a better combination, that will enable him to exchange with the marketplace, then he will get ahead of the others.
A much larger problem, however, is the very game. While you enjoy the original version of the above for linking the towns by roads and throwing the dice on commodities, which are the driving force behind the strategy, you can only collect cards here. No linking, no dice. You can only buy more cards for them. The whole experience is missing a significant moment, at which everything would be directed. And do not think the victory itself. Players collect cards just aimlessly.
Although some may have a strategy, it can hardly be met. Everything depends only on how the card go to your hand. You always need the right combination of cards, and when they are not in the market, you just aimlessly draw from the deck or try to steal it from your opponents. Yes, you have this option in this card game, but you need to have one road side A in front of yourself. And it is not stealing, it is exchange, so you will have to return him one of your cards instead.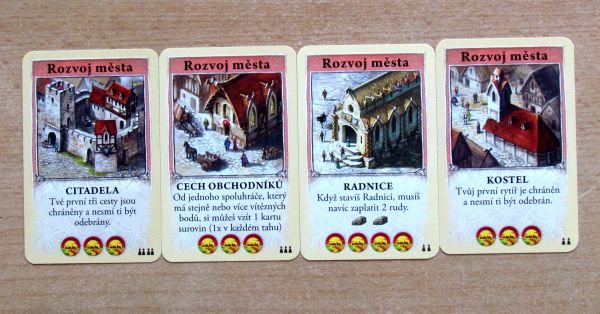 Improvement (compared to board game) is a possibility for a match in two players. But it does not holds against the expansion Mechants and Barbarians, which brought this option also into the big game – a third player, for whose control two players diversify. On the other hand, the match in two in this card game is very weak – duel lacks tension and the interaction is not that common here.
On top of it, for the whole game, players have a feeling, that they do not have much of a choice. They can plan attacks on opponents and weaken them or change order of buying the limited buildings, but in the end, they will need the same buildings to win. And that has not much in common with fun as we know it.
Graphics is based on the original game, so it is nice, simple and clear. The cards are clearly marked with their values in the victory points. Price is not directly printed on them, but you can find it only on the auxiliary card. Texts is quite large and easy to read.
Settlers of Catan Card unfortunately fall far behind their artwork and entertainment, especially throughout the game. Gaming system is missing a significant element, that would attract the players. Merely collecting cards and payment for buildings with materials cards is already out of fashion. It is a pity, that the author did not try to bring more elements to the game. He seeked simplicity, tried to create a game for everyone, but this Settlers of Catan are too truncated with little new ideas. And they are crutial for a card game. In the end, this game is too simple for Catan players and the players, who do not count among fans of Catan, reach for another game instead. This remake failed.
Informace o hře ze serveru BoardGameGeek (odkazy směřují tam)
Autor
Klaus Teuber
Ilustrace
Tanja Donner, Pete Fenlon, Jason Hawkins, Michaela Kienle, Matt Schwabel, Klaus Teuber, Franz Vohwinkel, Stephen Graham Walsh
Vydavatel
KOSMOS, 999 Games, Albi, Competo / Marektoy, Devir, Filosofia Éditions, Galakta, Giochi Uniti, Laser plus, Mayfair Games, Piatnik, Smart Ltd, Tilsit
Rok vydání
1996
Počet hráčů
2 - 2
Herní doba
120
Minimální věk
10 and up
Jazyková závislost
Extensive use of text - massive conversion needed to be playable
(40 voters)
Kategorie
Card Game, City Building, Territory Building
Mechanismy
Card Drafting, Dice Rolling, Hand Management, Trading
Rozšíření
Catan Card Game: Artisans & Benefactors, Catan Card Game: Barbarians & Traders Upgrade Kit, Catan Card Game: Expansion Set, De Kolonisten van Catan: Het Kaartspel – Goud & Piraten, Die Siedler von Catan: Das Kartenspiel – Sonderkarte 2002 – Johanna, die Kriegerin, Die Siedler von Catan: Das Kartenspiel – Sonderkarte 2003 – Guido, der große Diplomat, Die Siedler von Catan: Das Kartenspiel – Sonderkarte 2004 – Benjamin, der treue Vasall, Die Siedler von Catan: Das Kartenspiel – Sonderkarte 2005 – Irmgard, Bewahrerin des Lichts, Die Siedler von Catan: Das Kartenspiel – Sonderkarte 2006 – Emi'Ly, Bewahrerin der Harmonie, Die Siedler von Catan: Das Kartenspiel – Sonderkarte 2007 – Arnd, der findige Knappe, Die Siedler von Catan: Das Kartenspiel – Sonderkarte 2008 – Gustav und Reiner, Helfer der Ratlosen, Die Siedler von Catan: Das Kartenspiel – Sonderkarte 2009 – Franz vohm Winkel, Die Siedler von Catan: Das Turnier-Set zum Kartenspiel, Die Siedler von Catan: Kartenspiel – Handel & Wandel, Die Siedler von Catan: Kartenspiel – Kämpfer & Kaufleute, Die Siedler von Catan: Kartenspiel – Magier & Forscher, Die Siedler von Catan: Kartenspiel – Politik & Intrige, Die Siedler von Catan: Kartenspiel – Ritter & Händler, Die Siedler von Catan: Kartenspiel – Wissenschaft & Fortschritt, Die Siedler von Catan: Kartenspiel – Zauberer & Drachen
Rodina
Game: Catan, Game: Catan Card Game, Players: Two Player Only Games, Series: Two-player games (Kosmos), Versions & Editions: Card Versions of Non-Card Games
Alternativní názvy
Catan Telepesei: Kártyajáték, Catan το παιχνίδι με κάρτες, Catan: Jocul de carti, Catanin uudisasukkaat: Korttipeli, I Coloni di Catan: Gioco di Carte, Colonistii din Catan jocul de carti, Los colonos de Catán: El juego de cartas, Les Colons de Catane: Le Jeu de Cartes, De Kolonisten van Catan: Het Kaartspel, Naseljenci otoka Catan: Igra s kartami, Naseljenci otoka Catan: Igra s kartami za dva igralca, Osadníci z Katanu: Karetní hra pro 2 hráče, Osadnicy z Catanu: Gra Karciana, The Settlers of Catan Card Game, Die Siedler von Catan: Das Kartenspiel, Die Siedler von Catan: Kartenspiel – Für zwei Spieler, Карточные колонизаторы, Колонизаторы. Карточная игра, 卡坦島紙牌版
Více o hře
.
Plusy | Pros
+ card game in world of Catan
+ simple rules
+ contains the classic catan words
+ stealing option
+ two-side cards
Mínusy | Cons
- limited resources offer
- gameflow is always the same
- 10 points is the only goal
- you cannot influence the game much
Vaše reakce na článek / Your reaction
Mohlo by vás zajímat / Interesting