Today, we finally put ourselves to sleep at the foot of Uluru. Red Rock will finally bring me peace after a long trip. But not for long. I am on the Koniya road and this is just stop for me. Maybe, if I get lucky today, we will see two boys playing with mud. For one, who sees them, all drawings around apparently come to life and will protect him forever..
And we want to fulfill our dream at the mountain, which is the most massive monolith in the world, with a length of 3.6 kilometers and whole 350 meters above the ground. What better place could mythical creatures of Anangu choose for their council. But also players are invited, because they must adjust seating arrangements. So Laug Luchau, author of board games Uluru, wanted it. Its publisher is Kosmos company and illustrations were prepared by Harald Lieske.
In the traditional square box of blue color with Indian drawings and rendition of the title mountains, we find rules only in German. Below them, double-sided board folded in half is hiding, with a number of positions for cards on it. Each position then includes has a portrait of an animal (= color) above it. On the other side of the board, we find a variant with two rows and images in the middle.
Also smaller player boards are made from cardboard. Each of them shows Ayers Rock and eight positions for sitting around it. But there also has to be someone to fly down to this rock. And there is. Animal spirits in the form of beautiful, elegant pieces, five pieces from each of eight colors. Bottom of the pack shares with them also a bag of tokesn and hourglass. Finally, we must mention a deck of cards, featuring some crazy illustrations.
At the beginning of the game, players take board and places it in the middle. Then each one takes one smaller board for himself, as well as eight spirits – one of each color. Stones and hourglass begin the match near the board. It is necessary to sort out cards of wanted difficulty. Effort of placing all guests at the right spot can begin.
One player draws eight cards and spreads them face up on the board. At that point, it is necessary to turn the hourglass. Players are with the passage of time trying to position all animals according to their wishes. Each card has a portrait of one animal below and shows its yearning. Actual spirit is drawn on the picture as transparent and there are usually other pieces of others of color with him. He want to be sitting next to someone or across the mountain of someone else.
Players should try to meet as many wishes until sand in hours runs out. That is moment, when evaluation occurs. For each unallocated bird, as well as for individual errors, gamers will be rewarded with penalty points in the form of transparent stones. Game then continues by drawing another eight cards until the moment, when the offer is emptied. At that moment, winner is the one, who collected the fewest points.
Uluru is very hectic puzzle game. It is not easy to follow eight rules of placement and find combination, that will bring you the most points. And all this done in a limited time. Game does not forgive any mistakes at all, as they can bring penalties.
Everything is very fast. Each round, players play at the same time and evaluation is full of tension, so that also runs smoothly. When you create combination of cards and no two turns are alike. There is enough cards for this, but above all, it is all about the difficulty, that players can set by selecting the apropriate deck. When you set aside simpler tasks, combining complex cards into meaningful seating order is much more challenging. In addition, rules allow to assign even two wishes for some animals, if eight cards seem too simple.
But there is a second reason for existence of other side of the board. Two groups of different skills might compete in a match like this (usually adults against children). While adults will perform tasks only from some upper levels of difficulty, kids get lower ones. A simple mechanism ensures, that both groups can have fun with game at the same time. And it goes for children from eight years, although its really demanding on spatial imagination and speed, because of time pressure.
Although game has a nice theme and beautiful tribal graphics, deep down, this is only an abstract entertainment, which might be simply discouraging for some players. They will not be lured even by beautiful miniatures, transparent rhinestones or huge stock of cards. But all who love thinking and effort to overcome themselves as quickly as possible will love Uluru.
Because we are all playing at the same time, impression of the game is always the same and number of players does not matter. There is no way to affect others. If you want at least some, you can try turning hourglass after first player completes his task to his satisfaction. When he does it right, he can return one penalty stone back into the pot.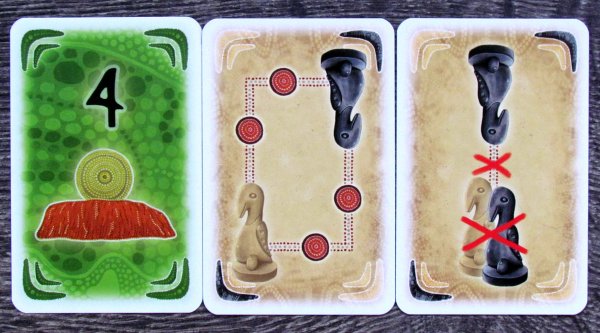 Uluru follows in the footsteps of its native brother Ubongo and certainly has the potential to become the next legend. Although its mechanism is still better and more original, Ubongo's pattern matching is a little more accessible to people. But we like Uluru even a drop more, because it takes a path, that is not so trodden and offers really difficult fun for even the most demanding thinker.
Informace o hře ze serveru BoardGameGeek (odkazy směřují tam)
Autor
Lauge Luchau
Ilustrace
Harald Lieske
Vydavatel
KOSMOS, Competo / Marektoy, Filosofia Éditions, Kaissa Chess & Games, Korea Boardgames co., Ltd., SimplyFun
Rok vydání
2011
Počet hráčů
1 - 5
Herní doba
30
Minimální věk
8 and up
Jazyková závislost
No necessary in-game text
(13 voters)
Kategorie
Puzzle, Real-time
Mechanismy
Pattern Recognition
Rodina
Country: Australia, Players: Games with Solitaire Rules, Series: Native-art line (Kosmos)
Alternativní názvy
Uluru, Uluru: Tumult am Ayers Rock, Uluru: Tumulte à Ayers Rock, Uluru: Το ιερό βουνό, 울루루
Více o hře
.
Plusy | Pros
+ can be played in solitaire and improve your score
+ original theme and gameplay
+ more difficulty levels
+ hugely variable
+ different skill levels can play against each other
+ beautiful processing
+ trains spatial imagination
Mínusy | Cons
- abstract games are not for everyone
Vaše reakce na článek / Your reaction
Mohlo by vás zajímat / Interesting