Our whole world was overshadowed by the darkness. It did not fall from wings of the Ringwraiths as we expected, but funneled through mountains, that surround Mordor as a sort of indescribable plague. Somewhere in the distance, dark humming echoes together with rhythmic sound of drums. Armies are put together and will do something, that our world will remember forever. War for the One Ring.
And you stand at the helm. You will not hesitate even for a moment, because such an honor cannot be refused. Board game War of the Ring comes after eight years for the second time to our tables. Shiny and brand new with its release year is 2012, but spread similarly slowly and quietly to the world, as darkness covered the Middle-Earth. Game finally got to us, although a little bit later, but we are glad we had the opportunity to try it out. Its author is a trio of Roberto Di Meglio, Marco Maggi and Francesco Nepitello. And it was not even possible to use illustrations from none other, than John Howe with help of Fabia Maiorano. Everything was published under logo of Ares Games and later joined by other languages.
Dimensions of this box leaves no doubt in your mind, that this will be a monstrous experience. The entire world of Middle-Earth is stuffed into one package and lid shouts it loudly far and wide, to all The Lord of the Rings fans. Even the map lying on the top is really respectable, divided into two halves, which should be placed together. On it, we find known world ranging from Hobbiton to Mordor, including a number of cities marked with colored diamond. The map contains a number of other scales and positions, including some for elves, other for free people, or the Fellowship of the Ring and some for Sauron (marked here as Shadow player). There are also three tracks – one for progress of Fellowship, second is political for convincing nations and third serves to track victory points.
This game is not yet finished with glamouring us. And its still not done after we mention tokens, which can be found a total of 76 in the sheet, again for both sides. Whole world but desperately needs miniatures.. And believe us, they are all here. All those characters, you know and love from movies and/or books – a complete Fellowship, Saruman, Mouth of Sauron, but even dwarves, warriors of Rohan or warggs and giant mammoths on the side of evil. The perfect picture is missing perhaps only ents. Game pieces are complemented by twenty special dice (six for the side of good, ten for evil player and five battle ones) and cards. Package contains hundred of cards to show us events, which will move the game forward, but also character cards.
At the beginning of the gam, players must split the role of Shadow, and Free people of Middle-earth among themselves and put a game board in the middle. The most important thing (for saving Middle-earth) is to put the Ringbearers, Frodo and Sam on Rivendell. Their token is put by players on zero position of blue scales along with marker for influence of the ring. All of their companions then start the game placed into a box Fellowship of the Ring at the top right corner of game board. Each character is also equipped with his own card. They are placed at the last blue position with Gandalf, who is their guide, on top.
Entire game of War of the Rings revolves around dice rolls, which will take place at the beginning of round. This is preceded by chance to discard and draw event cards, but also opportunity for Shadow player to reserve several dice for upcoming hunt for Fellowship. To the contrary, the small group of brave men can change their guide at this moment. Then its all followed by rolling the dice. Among them are the sword and flag used to move either the hero (and his troops) or separate armies, helmet used to persuade nations to go to war or recruit new units, or the opportunity to play or draw a card events.
War in Middle-Earth seems quite far away. Some nations simply do not want to believe, that something is happening and players must gradually lead them to enlightenment on political scale. Important characters can be brought into the game through dice. Rolls allow players also to use cards with a specific symbol, and these cards are a very important element of the game. They always have some playing its condition and effect. There is more possibilities of using the symbols on the dice, so player always has more choices. Opponents alternate in turns, so they must respond to one another.
If the Fellowship attempts to move through action dice, Sauron may perform his Ring hunt. Thus, in the case, that he has set aside some dice at the beginning of the round to do so. If Shadow player manages to come across their track, a search in the form of drawing tokens follows. And these can detect position of the Fellowship or increase impact of The One Ring on ringbearers. This part is the hardest to grasp in the rules and it takes time to get into it. In addition, rules vary by location heroes and on who is currently their leader.
But while the journey to Mount Doom takes place somewhere in the background, most of the attention is focused on battles. It is the second moment, when it is possible to play cards, this time for their combat support. Such a card is then discarded. It´s important to think twice, when you play any card, whether to use it in combat or outside of it. The battle is then solved using dice (twice, the second time for leader units) and is influenced by the presence of fortifications, which give an appreciable advantage to their owner.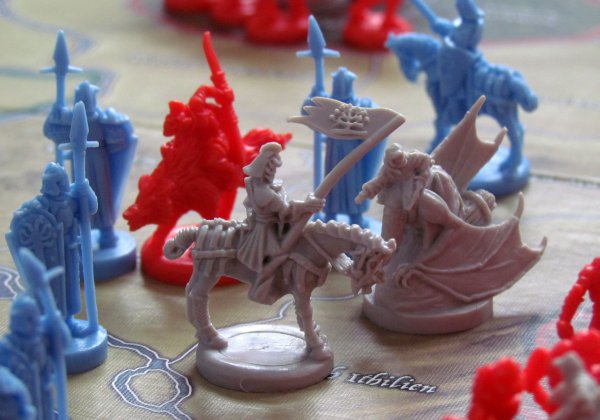 During the game, there is more and more war, battles are raging and suddenly everything is over. Free nations can win by Frodo and Sam slipping under curious Eye of Sauron and throwing The Ring into the heart of Mount Doom. Or their friends will get the upper hand on the battlefield and get a certain number of areas, pushing Sauron back. The same with some area goal goes for Shadow player. Likewise, darkness fills Middle-Earth in case, that Frodo can no longer resist the Ring and succumbs to its power.
War of the Ring is a game, about which so much has been already written in the English language. But we have published Czech version and we thought it would be bad not to translate it to our second site as well. That is, why the time has come, to look at the game together. At least bit slightly uncover the mystery, that hovers around her (for Czech players). And find out, why all like it so much.
First and foremost, it is in its length. At least for common man playing board games just for fun. You must set aside the whole evening, sometimes even night for one match. The game takes three hours and with no pauses and when Frodo does not linger. But with it comes the feeling, you had lived a story. Again and again, you can return to the world of Mr. Tolkien and experience the fate of the Ring and always a little differently. As if he rewrote the book before your own eyes. Always with slightly different ending.
The game is challenging, there is no doubt about that. Its just enough to look at the 48-page guide full of information. But when you learn it, it really is not anything complicated. Just a few little tought-to-grasp procedures, that support otherwise very simple and literally epic entertainment. And it still would not welcome any beginner warmly, only when he is taught by experienced player.
An important reason for this was the fact, that if Sauron is not played by an experienced player who has a clear idea of his plane, the game suddenly starts to diminish somewhat in tempo. Free people suddenly have too much action, are not under pressure and everything is not working as it should. But the experience must be obtained somewhere, and therefore some matches are required to finish even with slower tempo and learn from them to get a full experience.
The game will enchant you mostly with its asymmetry. While in the background, Frodo and Sam carry the Ring, going through their own battles and step-by-step approaching to Mount Doom, all around them are weapons rattling and armies of unprecedented proportions again and again meet in the seemingly never-ending war. Both parts of this struggle are equally important and can lead to victory or defeat.
And both are driven somewhat by luck. Now, that is second moment (after long playing time), when you need to decide, whether this is the game for you. Sometimes, even the best planning must bow to will of dice. And sometimes all the efforts may be thwarted after a hundred and fifty minutes of the fight for the future of the Middle-Earth, when Frodo succumbs to the power of the Ring and with terrifying laughing retreats into the shadows of Sauron to follow in his footsteps.
Selection of action is essential for the whole game and everything revolves around it. It elegantly reduces the amount of actions you can do in your turn, thus accelerating the flow of the whole game. But then the fight is actually inspired by a simple Risk (review). Yet there is many tactics behind. Altogether it creates right mix of tactics and luck in its pot.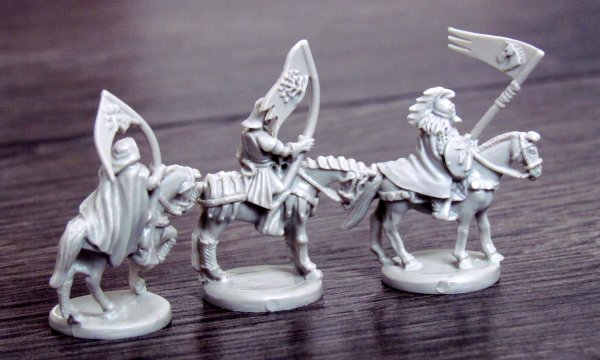 The game is best with two players, because both have clearly defined sides. Otherwise, player must always somewhat divide them and thus atmosphere might suffer for someone. It´s not important, because some players on the contrary praised the cooperation, so this impression is probably pretty individual and depends on the positions, on which individual participants find themselves.
Processing itself is amazing. There are only cosmetical changes in the second edition compared to the first, different board graphics and a larger and more readable cards. But this game becomes what it is with its monstrosity and number of miniatures.
War of the Ring is full of stories and atmosphere. We could tell you here, but it is much better, if you experience it for yourself. This game is a living and breathing fiery monster hiding in the depths of Khazad-Dum. It overflows you with all the stories and characters you love from Lord of the Rings. War of the Ring is a must for any rock fan of JRR Tolkien, but also for lovers of quality and truly epic board games.
Informace o hře ze serveru BoardGameGeek (odkazy směřují tam)
Autor
Roberto Di Meglio, Marco Maggi, Francesco Nepitello
Ilustrace
John Howe, Fabio Maiorana
Vydavatel
Ares Games, Angry Lion Games, Devir, GaGa Games, Galakta, Heidelberger Spieleverlag, Nuts! Publishing, Planplay, Red Glove, Sophisticated Games, Zhiyanjia
Rok vydání
2012
Počet hráčů
2 - 4
Herní doba
180
Minimální věk
13 and up
Jazyková závislost
Extensive use of text - massive conversion needed to be playable
(50 voters)
Kategorie
Adventure, Fantasy, Fighting, Miniatures, Novel-based, Territory Building, Wargame
Mechanismy
Action Drafting, Area Majority / Influence, Area Movement, Campaign / Battle Card Driven, Card Play Conflict Resolution, Dice Rolling, Hand Management, Hidden Movement, Movement Points, Simulation, Team-Based Game
Rozšíření
War of the Ring: Kings of Middle-earth, War of the Ring: Lords of Middle-earth, War of the Ring: Lords of Middle-earth – Treebeard Mini-Expansion, War of the Ring: Scenario – The Breaking of the Fellowship, War of the Ring: Warriors of Middle-earth, War of the Ring: Warriors of Middle-earth – Tidings Not Burdens Mini-Expansion
Rodina
Authors: J.R.R. Tolkien, Components: Map (Continental / National scale), Components: Miniatures, Creatures: Monsters, Series: War of the Ring (Nexus/Ares Games)
Alternativní názvy
Guerra del Anillo: Segunda Edición, La Guerra dell'Anello: Seconda Edizione, Guerra do Anel: Segunda Edição, La Guerre de l'anneau, Der Ringkrieg: 2. Edition, Wojna o Pierścień: Druga Edycja, Война Кольца: Второе издание, 魔戒聖戰, 반지 전쟁
Více o hře
.
Plusy | Pros
+ stunning atmosphere
+ great book transformation into board game
+ beautiful processing
+ two parallel story lines
+ plenty of opportunities for players
+ dice limit the choice of actions
+ unforgettable experience
+ variable game
+ players alternate in turns
Mínusy | Cons
- longer game time
- luck
Vaše reakce na článek / Your reaction
Mohlo by vás zajímat / Interesting