K2 -

Adam Kałuża in distribution of



Most of us would freeze to death on top of these mountains. But these men do not fear heights, cold or snow. They are not afraid of anything. And their only desire is to look around the world from the highest places possible and still be standing firmly on their feet. Mountaineers or fool, call them as you like. Today you can be one of them. And it is really worth it!




Kabaleo -

Jean Luc Renaud in distribution of



Is it possible to make a logical abstract game out of towering simple pieces? Yes, you'll just pick up some pointy hats, colour them into six different shades and pack it all into some elegant box. If you simply love colours, towers or logical quickies, then you should continue reading...




King of Tokyo -

Richard Garfield in distribution of



Monsters are destroying Tokyo. And you help them out. Is that hard to imagine. You do not believe, that its possible? Join alongside giant monsters and do everything, you see in disaster movies. Monsters desire only destruction. You and you only should be the King of Tokyo!




Kingdom of Solomon -

Philip duBarry in distribution of



Let the board game Kindom of Solomon take you to Israel. It is time, for a new one king to unite the whole land and you will be one of possible ancestors to the throne. You will collect materials, connect locations and raise buildings in race for glory. But beware, you rivals will bring many surprises and obstacles in your way, chances that can hardly be turned down. The Kindom of Solomon awaits you.





Kippit -

Torsten Marold in distribution of



Welcome to the scales. Which side should you lean to? You must choose and advance carefully and hope, that luck will eventually decide in your favor. But it also takes a firm hand. It's all but a little bit of that skill. Do you have it? And do you dare to use it?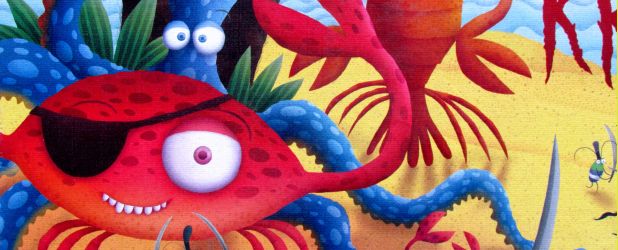 Krabi -

Adam Kałuża in distribution of



Please enter a world of crabs, where only the biggest groups are meant to survive. Help all those four colored crab species to find their frineds and home. You will do this and much more in a game from polish company Granna. The game is called Kraby and it beautifully takes together logical reasoning and family entertainment.




Kriegbot -

Matt Eklund in distribution of



Have you ever dreamed about building your own robot? Who wouldn't! You could have him hidden on garden and from time to time ride with it and destroy something? Right! Well, these are not dreams anymore. Everything is different now Kriegbot is here!