Tahiti -

David E. Whitcher in distribution of



This years harvest is rich, but there is more and more inhabitants on the island. And they will becom hungry. To feed all of them and while doing that, race with other tribes for delicious fruit? It may look like a lot to ask for one man, but all these missions wait for you. And you have to manage them, if you want to survive next winter on Tahiti..




Take It or Leave It -

Christoph Puhl in distribution of



Dice magic could now, thanks to Take It or Leave It game, become a regular member of witchcraft group. To win in this dice game, you need aslo a quite large tactical skills besides luck with rolling those magical six-sided object. Have you got the courage to enter this magical world?




Takenoko -

Antoine Bauza in distribution of



Panda is a cuddly creature. It has big tummy and its whole black and white. And it is usually not good at kung fu. And this creature from Takenoko board game is no exception. This giant panda loses, when it comes to the martial arts skills, but it gains much more with its cuteness. This board game will simply not let you in peace and you will enjoy lots of fun with it. Would you like to know more and get to know with this panda?




Target Earth -

Jacobo Cagigal in distribution of



Earth is under attack of some alien civilization. There is nowhere to hide. UFOs are conquering one state after another. There is only couple of brave soldiers staying in their way. And one organization. Take a deep breath and gather your strength. Operation Target Earth is commencing right now!





Tea Time -

Emanuelle Ornella in distribution of



Scent is flowing across meadow and temptingly shivers everybody under their nose. Slight sore above each cup is telling you clearly to come closer. Meet Alice, The Hatter, Caterpillar and Cheshire Cat. Everyone is waiting for you by cup of tea in this new card game..




The 51st State: New Era -

Ignacy Trzewiczek in distribution of



The world was beautiful as paradise. But today it is a hostile place, where only couple of thousands of human beings strive for survival. Become one of them and gain power, which noone of the surviving has ever dreamed of! And there, somewhere in the desert, there must be this dreamed place called 51st State, where everything is as is it supposed to be. People live there in harmony and peace. Fulfill your dream in this new card game!




The Cave -

Adam Kałuża in distribution of



Dark corridors underneath the ground are hiding unseen beauty. Different icicles, lakes and formations a human eye has yet never seen. They are hiding in pretty shallow places, but also much much deeper, outside reach of ladders and ropes. If you are not scared of the dark, you can set with us on a underground expedition. Welcome to board game The Cave..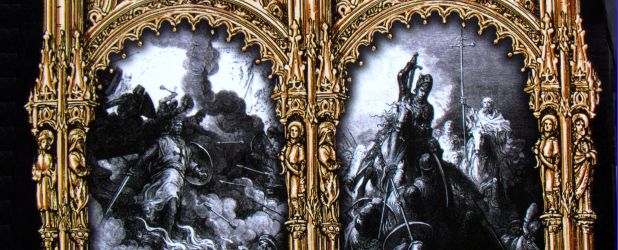 The Kingdoms of Crusaders -

Danila Goryunov in distribution of



Welcome to crusaders paradise. They defeated all of their enemies and now they have noone to stand up to. That's enough reason, to start war with each other. Two newly born houses in neverending fight for power in Kingdoms of Crusaders..





The Struggle for Catan -

Klaus Teuber in distribution of



Sequels and spin-offs of successful board games are as much popular as with movies. Board game Settlers of Catan is one of the most obvious evidence. Except many expansions, it has lived to see its card ancestor. Are you interested in how it plays? Then read our review and find out!




Thunderstone Advance -

Mike Elliott in distribution of



Have you got the guts? Can you pick your courage up and go on an adventure, which have nobody return from? You will get only a few greenhorns for starters. Their task will be to guard your back. But do not leave anything to chance! Enemy is hidden behind every corner and his teeth are really sharp!




Thunderstone Advance: Caverns of Bane -

Mike Elliott in distribution of



Dark caves do not seem frightening to you? You like glittering of precious metals and their weight on your throat? Do you fear nothing and love adventure? Then grab a sword, axe or magical wand and venture into Bane caves. There is evil lurking there, which not only scares nearby villages, but also threats to destroy the whole world!




Tschak! -

Dominique Ehrhard in distribution of



Today, we will take a journey into one really old and creepy house. But it would not be righteous haunted house, if there would not hide something shiny behind those frightening monsters - in this case, there are shiny chests full of gold. Prepare your team of heroes and outsmart your enemies!