Bílá čarodějnice byla poražena. Jenže tím náš boj teprve začíná. Je třeba vybudovat království, ale neobejde se to bez hrdinů. Ne všechna místa jsou bezpečná. Spousta monster zůstala na svých místech a dále bloudí po světě. A šeptá se o nové hrůze, která roste v ustupujícím stínu starého utrpení.
Dobrodružství na každém rohu čeká na hráče v deskové hře Ni No Kuni II: The Board Game, která za sebou má dlouho a strastiplnou cestu z konzolí Playstation až na naše stoly. Pod jejím vznikem jsou podepsaní Steve Margetson a Bryce Johnston, kteří ji vyvinuli pro Steamforged Games. To je firma, která získala licenci na tuto krásnou kreslenou RPG hru studia Ghibli. V roce 2019 dorazila na trh i v Evropě zásluhou společnosti Esdevium Games.
Na víku menší krabice vidíme výhled na království a také dvojici postav. Po obloze pluje drak. To všechno je příslibem velkých zážitků, takže plni nadšení hráči rozloží herní plán. Ten reprezentuje mapu města v království Doloran a také naznačená místa pro sadu úkolů (pole počtu hráčů čtyři až osm). Ze zamíchaného balíčku karet úkolů hráči náhodně vezmou a odhalí po jedné kartě na každou z pozic. Ke každé přiloží také jednu náhodnou kartu nepřítele. Zbytek karet vytvoří zásobu poblíž mapy království.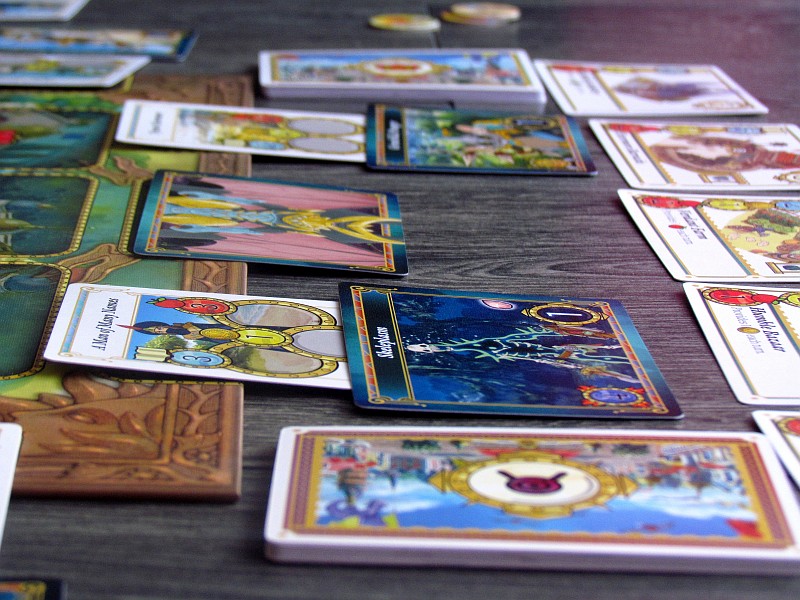 Vedle plánu vytvoří hráči nabídku pěti karet království, které reprezentují budovy, jež mohou postavit. V dosahu připraví také bank žetonů, ale především si vyberou jednoho ze dvou bossů, se kterým chtějí bojovat. Každý hráč si pak vybere svoji postavu a dostane k ní posilu v podobě jednoho nebo dvou higgledies. Získají tak kartu, miniaturu a žetony.
Každá partie se skládá z pěti kol, které hráči prochází společně jako tým. A nejdříve si vždy vyberou z nabídky výprav. Každou musí obsadit minimálním počtem hrdinů (nebo higgledies) a poté porovnat své síly z hodu kostkami. Snaží se tak společně porazit zlého nepřítele, ale vždy ve způsobu boje, který padouch předepíše. Hrdinové mají každý rozličné schopnosti, a tedy i počty kostek, kterými přispívají do jednotlivých druhů boje. Pokud součet všech výsledků z kostek je vyšší než síla příšery, pak to znamená úspěšný úkol.
Za tyto dokončené výpravy inkasují hráči ihned suroviny natištěné na kartě. Za získané žetony pak lze v poslední fázi kola nakupovat nové budovy do města. Poté hráči doplní nabídky jednotlivých karet, tedy království i případně dokončené úkoly. Z poražených příšer mohou hrdinové obdržet také žetony jídla, které jim v příštích kolech umožní hráčům jednorázově přidávat nebo přehazovat kostky.
Postupně se hráči vypořádávají s nástrahami říše a postupně doplňují vyřešené karty za nové. Po odehraných pěti kolech se hráči dozví, jak si vedli. Musí totiž sečíst své získané body vlivu, které dostávají za pořízené karty království. Právě tuto sumu potřebují mít vyšší než jejich úhlavní nepřítel, který se snaží získat vliv nad obyvatelstvem. Pouze v případě, že hráči byli úspěšnější v šíření svého vlivu, mohou jako tým společně slavit vítězství.
Ni No Kuni II: The Board Game je v první řadě pohádkou. Kromě toho je samozřejmě také společným dobrodružstvím všech účastníků, kteří se musí radit a snažit uspět v bojích s nepřáteli, kteří se rojí všude kolem.
Právě tato pohádkovost táhne celkový dojem kupředu. Hra totiž nádherně vypadá, což jde ruku v ruce s tvůrčím týmem. Grafika je totiž převzatá z hry, takže je to sázka na jistotu. Ilustrace jsou detailní a opravdu líbivé. To platí hlavně o příšerách.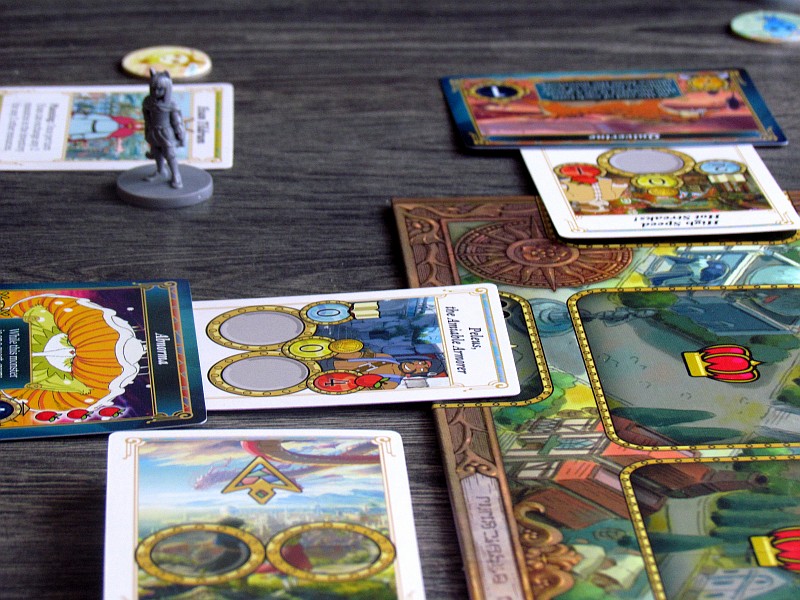 Základem všeho jsou snahy o splnění výzev a především poražení nebezpečných protivníků. K tomu hráči potřebují kostky. A tady vstupuje do partie první a hlavní taktické týmové rozhodování. Každé místo totiž má určené svoje minimum hrdinů, ale to hráčům nijak nebrání vyslat figurek ještě více. To znamená hod více kostkami, a tedy i lepší šanci na úspěch.
Kromě bojů ale hráči především musí správně manipulovat se zdroji a nakupovat budovy. Ty jim mohou kromě bodů pro závěr partie přinést také důležité výhody pro samotná kola. A ty není dobré podceňovat. Základní stavby je v rámci partie možné nahrazovat vylepšenými a získávat tak ještě více bodů. Jenže právě body jsou tím, co snižuje dopad finále – o výhře rozhodne pouze součet bodů a žádné srovnání sil.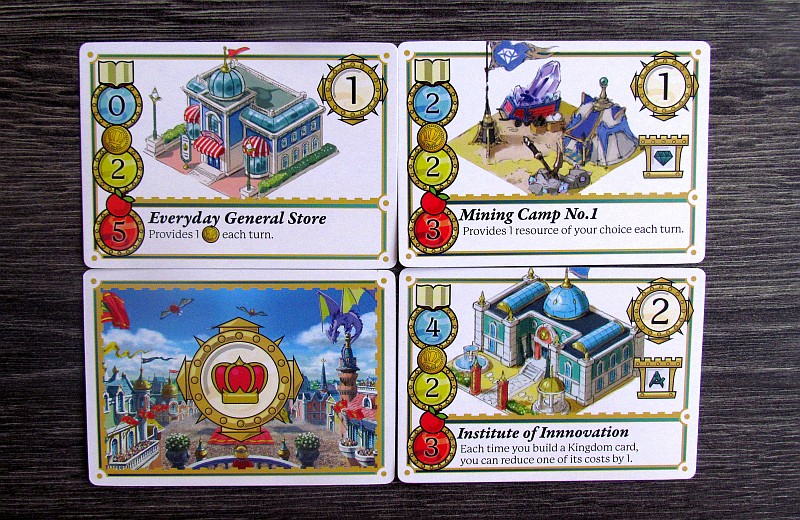 Je jasné, že hra zaujme hráče předlohy. Ale má překvapivě co nabídnout i ostatním. Hráči se pouští do společného dobrodružství, což je ideální pro rodinnou zábavu. A tou právě Ni No Kuni II je. Chtělo by se nám hru srovnat s naším milovaným Heldentaufe. A v některých momentech by se to přirovnání mohlo i dařit.
Rodinnému cílení odpovídá také herní doba. Partie se odehrává na prostoru pěti kol, které utečou opravdu rychle. Ani se nenadějete a najednou porovnáváte získanou sumu s hlavním záporákem. Celý boj se odehraje v rámci nějakých čtyřiceti minut, někdy i méně. Možná by se mohlo zdát, že je partie až příliš rychlá.
Není to samozřejmě tak, že by děti mladší deseti let zvládly hrát samy, ale s rodiči se určitě mohou do boje o záchranu království pustit. Při tom se podle počtu účastníků liší také množství míst, a tedy i výběr úkolů. Je samozřejmě lepší mít více nepřátel, které naštěstí nijak neútočí zpět, pokud je hráči nechají jen tak stát na hraně svého města. Ale ani v minimálních dvou to není nijak špatné.
Ni No Kuni II: The Board Game je pro nás dalším černým rodinným koněm. Nečekejte od ní nějakou závratnou taktiku, ale nádherné zpracování a pocit spolupráce je přesně tím, co byste jako rodiče měli hledat. Hra má při tom dostatečnou hloubku rozhodování a není to jen o slepém házení kostkami, jak často u takových her bývá. Ni No Kuni II: The Board Game je výbornou kooperativní hrou pro rodiny.
Více o hře
.
Recenze: Ni No Kuni II The Board Game
Ni No Kuni II: The Board Game je pohádkovou hrou, ve které se hrdinové pustí do boje o záchranu království. Musí odrážet nájezdy nepřátel ze spousty stran, snažit se plnit úkoly, stavět království a šířit tak svůj vliv. Pouze s jeho pomocí nakonec mohou zahnat rostoucí nebezpečí, ať už si vybrali jednoho nebo druhého bosse. Ni No Kuni II není hrou bezchybnou nebo absolutním zážitkem, ale místo toho exceluje jako pohodová rodinná zábava, ve které mohou děti a rodiče spolupracovat.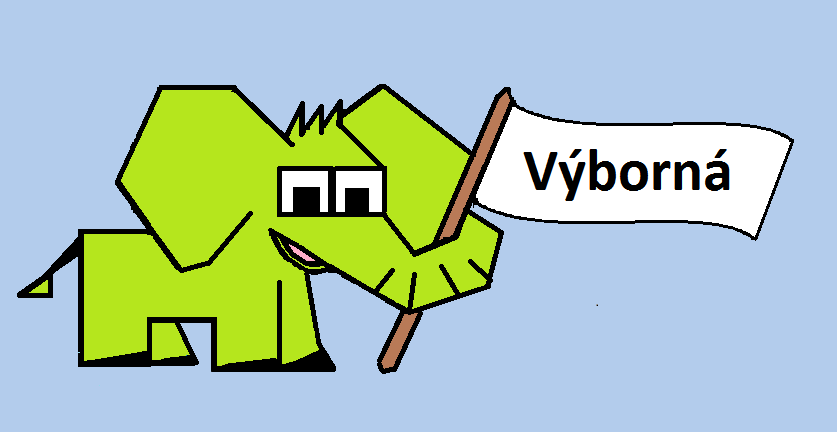 Klady:

+ ilustrace
+ přístupnost pro rodiny
+ boj i stavba království
+ jednoduchá pravidla
+ rychlá herní doba
+ taktické možnosti
Zápory:

- až příliš rychlá partie
- nakonec jen porovnání bodů