Rodinné hry pro mne přestavují takovou zlatou střední cestu, pokud je o poměr obtížnosti a požitku. Nejsou zbytečně složité, ale mohou nabídnout dostatečnou hloubku nebo zábavu. Měli by uspokojit nehráče, občasné hráče i kované deskovkáře. Snad se to v následujícím výběru alespoň částečně povedlo.
Výbušné lektvary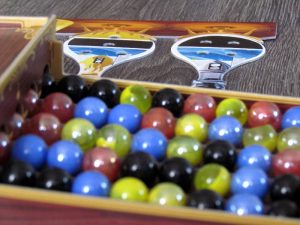 Určitě jste narazili v mobilu nebo na facebooku na hry, kde spojujete tři stejné bonbony, krystaly, ovoce a kdo ví co ještě a ono to následně zmizí. Tento systém si vybrali tvůrci Výbušných lektvarů jako inspiraci pro svou hru. Zde se na vás sypou skleněné kuličky různých barev jež používáte k přípravě lektvarů. Pokud se vám podaří v zásobníku srazit kuličky stejných barev, máte možnost si jich vzít více. Hra má jednoduchá pravidla, ale zároveň nabídne příjemnou hloubku, při rozhodování.
http://www.deskovehry.com/recenze-vybusne-lektvary-flakonova-revoluce/
Ostrov Skye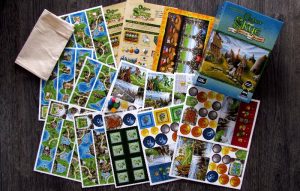 Carcassonne jste možná hráli. Pokud se vám princip stavby mapy z dílků líbí, Ostrov Skye jej posouvá o krůček dále. Každý si staví svůj vlastní ostrůvek, dílky od sebe vzájemně hráči nakupují a nejzajímavější je bodování. To je každou hru jiné (náhodně se losuje) a ještě pokaždé v jiném pořadí. K přemýšlení je tu toho opět dost a navíc, kdo by nechtěl spojovat krajinu, kde se valí sudy s whisky?
http://www.deskovehry.com/recenze-ostrov-skye-male-ostruvky-pro-kazdeho/
Machi Koro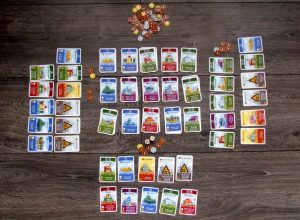 Hodím dvěma kostkami a podle toho, co padne, to bude produkovat. Princip možná znáte ze hry Catan (pro nás staromilce z Osadníků). Tady je to ovšem zjednodušeno na karty budov, produkující mince, za které nakupujete další karty budov produkující mince až nakonec postavíte čtyři hlavní budovy a tím vyhrajete hru. Opravdu velmi jednoduchá hra, dosti náhodná, ale o to zábavnější. Dosti opomíjená hra, která pro rodinné hraní stojí minimálně za vyzkoušení.
http://www.deskovehry.com/recenze-machi-koro-rozpocet-mesta-do-vlastnich-kapes/
Vládce Tokia
Banda monster chce ničit Tokio. Protože se nedohodnou na spolupráci, dávají si vzájemně přes ústa. U toho řinčí hromada kostek, monstra získávají silnější schopnosti a hráči mohutně povzbuzují vlastní kostky nebo pláčí nad hody soupeře. To vše je v parádní komiksové grafice. Zábava a slzy malých dětí, když je vyřadíte, jsou zaručeny.
http://www.deskovehry.com/recenze-king-of-tokyo-2016-srovnavaci-recenze/
7 Divů: Duel
7 Divů: Duel sbírá tolik ocenění, že se ani nevlezou na krabici. V této hře, která je pouze pro dva hráče, se snažíte podobně jako v originálních 7 divech získat co nejvíce bodů za stavbu svého města a divů v něm. Hra se opět odehrává ve třech věcích, tentokrát si ale karty neposíláte, vybíráte je ze zásoby na stole. Karty jsou položeny přes sebe a brát můžete pouze ty úplně horní, čímž zase otevřete možnosti soupeři. Navíc si musíte hlídat i vědecky a vojenský pokrok soupeře, tady je totiž možnost dosáhnout okamžitého vítězství v průběhu hry. To všechno dává hře dynamiku, kdy se přelévá vítěství ze strany na stranu a jistota není až do úplného konce hry.
http://www.deskovehry.com/recenze-7-divu-sveta-duel/
Makroskop
Základní princip hry Makroskop je velmi prostý. Černobílý obrázek se skrytě vloží do herní krabičky. Shora krabičky se postupně vyndávají záslepky otvorů a ty poodhalují části obrázku. Úkolem hráčů je co nejdříve uhodnout jaký obrázek se skrývá v krabičce. Hra je prostá, ale zábavná a moc krásně provedená. Pobaví se malí i velcí.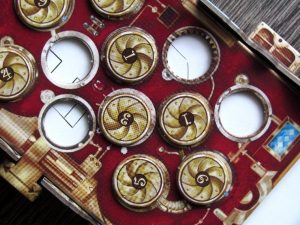 http://www.deskovehry.com/recenze-makroskop-zmensovani-pro-kazdeho/
Zahrada
Uspořádání zahrady, tak aby ladila oku není jednoduchá věc. Pokud si je představíte rozdělenou na sektory, můžete je začít vyplňovat. Tedy alespoň v deskové hře zahrada, kde bude vaším úkolem co nejefektivněji zaplnit vaši zahrádku dílky s květinami. Ty vypadají jakoby vypadly z počítačové hry Tetris. Zároveň bojujete se soupeři o ty nejvhodnější, protože i když budou vaše zahrady na první pohled rozdílné, bude se vám hodit ten stejný kousek.
http://www.deskovehry.com/recenze-zahrada-vyjimecna-vzhledem-i-vuni/
Kingdomino
Domino asi všichni znáte, ale královské domino, to je jiná. I když vlastně ne tolik. V Kingdominu skládáte své království z dominových dílku do tvaru 5×5. Uprostřed stojí váš hrad a ten začnou postupně obklopovat louky, pole, lesy… Každý dílem musí navazovat na ty sousedící, tak jako v dominu. Účelem je pak vytvořit co největší spojité plochy stejného terénu. Hra je rychlá a snadná a určitě si zopakujete několikrát dokola na jedno posezení.
http://www.deskovehry.com/recenze-kingdomino-uzemi-za-uzemim/
Úniková hra
Dnešní +1 není jedna hra, ale kategorie her. Jedná o hry únikové, které simulují v posledních letech velmi populární únikové místnosti. To je většinou jedna místnost plná věcí, kam vás pořadatel "zamkne" a vy se musíte dostat ven za pomoci řešení různých hádanek, šifer a jiných úkolů. To si v posledním roce vzala jako inspiraci velká spousta tvůrců her, takže si můžete vyzkoušet unikat v pohodlí domova. Více se o jednotlivých hrách dozvíte v článku z našeho týdne únikových her.
http://www.deskovehry.com/srovnani-stolnich-unikovych-her-aneb-odkud-utikat-o-vanocich/